For  Canadian singer-songwriter Alexander Stewart, 2023 is shaping up to be the year where all of the momentum he found in 2022 reaches new heights. The Toronto-born/LA-based pop singer is taking the world by storm. In his home country of Canada, Stewart has broken into the top 20 Billboard charts and garnered over 23 million streams with his first single "Backwards". His two subsequent singles "Echo" and "When You Love Someone", released in 2022, have already amassed 23 million streams combined.
As an indie artist, he's amassed over 120 million streams across all platforms so early in his career – and there's no plans of stopping now. Later this month, Stewart will be performing a headlining gig in London (one of the most popular cities for Stewart's Spotify listeners — as shown by it being sold out on LiveNation), Stewart took the time to talk to POParazzi about his accomplishments and what he's got in store for the rest of the year.
Hey Alexander, your latest single Blame's On Me has really been a breakout success around the world. How does it feel to be hitting new heights daily, whether it be having your music played on Radio 1 or amassing 20 million streams on Spotify?
It has been a mind-blowing experience. I am just trying to lead all of it with gratitude. So much of what's happening right now are things that I've dreamed about happening for a long time. I've just announced my first ever headline tour and some of the dates have already sold out, like Amsterdam and London. For my entire life I've wanted to announce my own headline tour.
For this song to facilitate that, it's honestly a feeling I can't really describe. My 2023 resolution was to stop and smell the flowers around me more in life, not actual flowers, although I do like smelling flowers!
I feel like in 2022 I was just on autopilot. When I look back on the year, I don't think I truly appreciated what was going on around me. I just feel like as these things are happening and I'm hitting goals I've dreamed of my whole life: being played on Radio 1, having songs streaming like this, being able to go on my own tour. I just want to live my life with complete and utter gratitude and just stop to appreciate everything that's going on around me, lock in these memories! Truly appreciate what's going on, you know.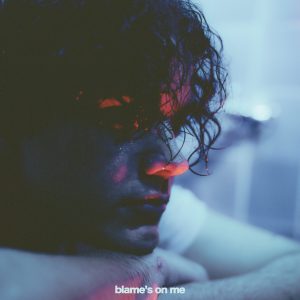 "I just want to live my life with complete and utter gratitude and just stop to appreciate everything that's going on around me, lock in these memories!"
Your music has been resonating with fans worldwide, especially so in London. What are you looking forward to doing with your time in the UK?
I'm in the UK now, [and] it has been very fun. BUT, kind of a funny story, I was really looking forward to exploring and going to tons of fun restaurants, getting to experience the city, and doing things I wouldn't be able to do in Los Angeles. But I got to London and the first thing I did was go to a really nice dinner that was amazing and I loved it so much, but I ordered beef carpaccio and I got food poisoning for two days straight.
I was stuck in my hotel room when I was supposed to be exploring London on my two days off! I couldn't see anything that I wanted to see. I'm just going to have to come back to London when the tour happens in three weeks' time and explore then! I have a bunch of friends who live in London, so I'll have of them show me the spots that they think are the coolest and represent London the best and show me a good time. I'm such a foodie, I want to go to tons of well-known exciting London restaurants… I will absolutely be a tourist. I have no shame. I want to see all the cool spots I haven't seen before! Just enjoy the city.
There's a lot of emotion and pain on 'Blame's On Me'. Was writing the song a cathartic experience for you? What did you feel when the song gained traction and it became apparent that so many people related to your experience?
'Blame's On Me' is definitely the most emotional song I've ever written. I had to dig deeper inside of myself to write it. Most of my songs up to this point have been me playing the victim in heartbreak because that was all I knew. I'd been broken up with a bunch!
With 'Blame's On Me', I had ended things in my relationship, about six or seven months ago now, and I was getting busier with my career, and I couldn't handle the relationship at the time so I just ended it. It felt like a weight was off my shoulders and I suppressed all the heartbreak for two months, I was just like: can't deal with this!
At the time I didn't really know why I was feeling that way; I didn't really understand what was happening. When you suppress emotions, unfortunately, they don't go away, you just curl them all up into a little ball in your back pocket, and then they explode!
Then all of a sudden, I was feeling extreme heartbreak two or three months after the breakup. It was hurting so bad I didn't even want to write songs about it, I didn't know what was happening. A month after that, on top of everything, I realized that it was also all my fault. The blame was on me!
I experienced that heartbreak for another month and then went to the studio and felt I had to write about it. I felt like a terrible person, I'd messed up, I can say that. The blame was on me. I said it and everyone was like, that's the song! So, we wrote this song and it was a crazy thing, writing from the perspective of being heartbroken and having it be my fault. I never realized that on both sides of the coin you can be heartbroken, if you are the victim or not. I wanted so badly for it not to come off that I had ended things and now wanted people to feel bad for me. If you listen to the lyrics, they're very self-explanatory. [T]here's no reading between the lines. I say exactly everything how it is and how I was feeling in that moment. The other thing too that I found really interesting is that I didn't know how people were going to take it.
Then I realized after that, people were using it as their own closure on the opposite end: people who had experienced heartbreak, but the blame wasn't on them, they were listening to the song as if their ex was saying it or sending it to them. I thought that was really special. When you make art, it's mine until I put it out into the world and then it's anyone's, to be interpreted however they want. For everyone to relate to that aspect, I thought was so special and cool because I hadn't even thought about it. All in all, it was a very cathartic experience to write, release and promote that song. I just think it's funny that the biggest song I have now is one where I'm being like: 'I suck!'
Your music career has really taken off in 2022, you're starting 2023 off with a bang but you've been working on making music since high school. What's been the most incredible thing that's happened to you since the days when you were honing your craft and making covers on YouTube?
Wow. Yeah, it's true, I've been making music since I was fourteen years old, almost a decade. So much has happened since I was a little kid writing songs. I would say one of the biggest things that facilitated this is that I moved by myself to Los Angeles to pursue this dream and to say, 'I got one shot at this and this is what I feel like I'm on this planet to do'. So, I packed my bags and moved to Los Angeles. Younger Alexander had a lot of courage to do that!
Looking back, I didn't know what I was doing, I just knew I had to do it. I just figured it out and started working with people and writing songs and posting online to try to figure out any way to get people to listen to my music. As it's grown and progressed, there's so many things throughout the last few years that I'm so proud of and excited about. One of which being the tour that's coming up. I've just wanted to play my own shows forever. The fact that I get to do this now, I feel like I'm in a dream and I need to wake up. I'd say moving to Los Angeles was probably one of the crazier things I've done but I wouldn't change a thing, I really wouldn't.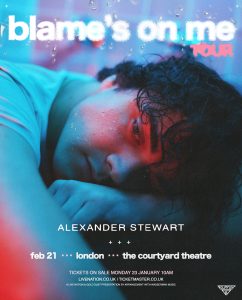 "I packed my bags and moved to Los Angeles. Younger Alexander had a lot of courage to do that!"
When creating a song, how do you go about developing your sound and lyrics? What inspires you to write and create? Has that process changed since you first started?
Absolutely it's changed. It's funny because what I do now is kind of what I did when I was just writing songs in my bedroom by myself. When I got to Los Angeles, I just wanted so badly to work with people and have people believe in me. I was doing as many sessions as I could, writing as many songs as I could and working with as many people as I could.
It got to a point where I burned myself out. I was writing about a very similar situation every time that I felt passionately about, but I was writing nine songs a week and there's only so many songs you can write before you lose inspiration. In 2022, I basically said to myself that I had to stop doing an extremely excessive amount of songwriting, just trying to write as many as I can. I have to put quality over quantity.
I told everyone in my team: only two or three sessions a week maximum, and only when I feel like I have something to say. Songwriting for me is such a special thing where I have to believe in what I'm saying. Starting about a year ago, I started only going to sessions when I felt really passionately about something, which is how 'Blame's On Me' came about. It's changed everything.
I feel like the songs I'm getting now are so much better and so much more honest. I think they're going to resonate with people way more and it's been life-changing to go back to my roots of just writing songs when I felt emotional about something or felt like I really had something to say. I think 2023 is really just about going back to my roots of writing when I feel like I need to say something and it's going to be beneficial for me and every single time a song comes out better than if I'm just writing to write.
In the video for 'Blame's On Me' you're always alone and often against a vast, empty background (be it a landscape, parking lot etc) which I think really captures feelings of loneliness and the pain that the song describes. What went into coming up with the concept for shooting the music video?
I think you've said it in the question! The song is really lonely. It's about self-reflection and realizing that I was at fault in a relationship and the loneliness that comes with realizing that 'it's me, I'm the problem. It's me'! It's a different kind of heartbreak, there are so many different kinds, and this is one I hadn't experienced before. Almost a self-induced heartbreak. When I was coming up with the ideas and talking to my team about it, I said I don't think there can be anyone else in this video. This needs to reflect how I'm feeling, and I felt alone, stupid, sad, guilty. I wanted all those emotions to come across in the video to visually represent what was going on in my brain around the situation. I'm super happy with how it came out, it feels lonely to me, kinda dark, scary, and sad. That's just exactly what was happening in my brain over the last few months, thinking back over everything as a whole that inspired the song.
What do you have in store for 2023? What can fans expect from your music to come?
In 2023, hopefully more tours, that's one of my biggest goals. Also, an album, that's my other biggest goal. The music is just elevated, it's coming from a more real, honest place. All my songs are very honest but with Blame's On Me especially, it hit a different level of honesty for me. All the new music hits that level, just raw and something that people will be able to listen and relate to. All these emotions I'm going through are obviously emotions that most people have gone through. Whether it be on either side of the coin of heartbreak, getting broken up with, breaking up or any of the heartbreak that's associated with any of that. This new music dives deeper into a place that I'm excited for people to listen to. There are also lots of songs about heartbreak and my personal experiences that I hope will connect with people. Like I said about art, it's mine when I write it but the moment, I put it out it's everyone's, to be interpreted however they want to interpret it. That's the most beautiful thing about art and music as a whole. Lots of new music to look forward to and hopefully more touring to look forward to! It's going to be a really exciting year.
Alexander Stewart's single "Blame's On Me" is out now. Tickets for his London show are on sale now at LiveNation.co.uk
Press photos courtesy Erik Melvin.