Born and raised in Nairobi, Kenya, Binoy knows about the difficulties of growing up queer and taking the journey to self discovery. A singer, songwriter, multi-instrumentalist, and producer with an affinity for cinematic pop music, Binoy blends genres — drawing inspiration from a wide array of artists from Taylor Swift to Fleetwood Mac and Scissor Sisters.
His latest song, 'Boyhood' artfully treks the intimidating jungle of queer adolescence — from dealing with masculinity and gender norms, to bullying and family traumas — with all the knowledge that has come with being an adult that's found self-acceptance and freedom in expression.
Binoy recently took the time to chat with us about writing 'Boyhood,' and what it was like growing up queer in one of the places where being gay remains dangerous and illegal, as well as the creation of the song's music video (above) and his inspirations.
Hey Binoy! Your latest single, 'Boyhood' is a really upbeat and also mature track about reflecting on adolescence and the struggles of growing up a queer person of color. What was it like writing this track and putting all these feelings into song?
Hi there! Firstly, thank you for having me and for all of the wonderful feedback on 'Boyhood'. Writing this song was as cathartic as it was an exercise of intuition. There's so much that I wanted to talk about with very limited space on the track, so I settled on the idea of condensing broad experiences like bullying and parental conflict into a single day that represented some of my adolescent struggles. I'm far removed from a lot of these experiences, but that didn't stop me from getting emotional while sifting through the thoughts and memories. In a way, editing these big formative conflicts down to a single lyric or two helped loosen the hold they had on me, as it unearthed the roots of what was really hurting. Such is the power of creative self expression, and this song means so much to me because it truly feels like there are parts of my identity stamped all over it.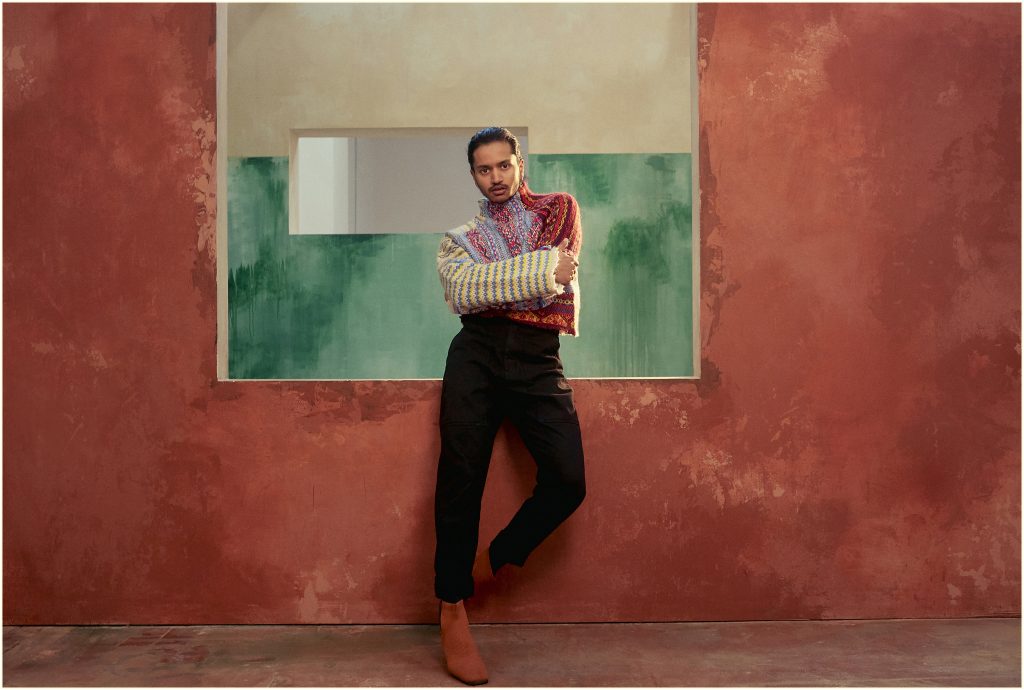 You don't shy away from the darker parts of growing up queer, like facing bullying, violence, and family trauma. How did facing these difficulties in life make you the songwriter you are today? 
Most queer people don't get the opportunity to grow up authentically. So much of our identity in youth is dedicated to performance, diluting ourselves and conforming to make sure we avoid prejudice. As we grow into adulthood, it then becomes our responsibility to discover who we are underneath all of that fear. We adorn ourselves with armor, only to learn that it weighs us down, and so we dive inward in search of the person we buried deep. I think so much of my songwriting is dedicated to that pursuit of authenticity, which is why I'm unafraid to explore the darker parts of myself. They exist as beacons of where we hardened, and so through writing I look for the softness.
The music video for 'Boyhood' is a beautifully animated piece of art that sees the protagonist go on a journey of self discovery, matching the song's lyrics. It's pretty brilliant to have the video be in the style of The Powerpuff Girls, Steven Universe, or other animated shows kids watch – what inspired you to go with this concept?
Thank you for making that connection! You hit the nail on the head, in that I wanted to create visuals that harkened back to the time in my life I was writing about. I also love the contrast of dark subject matter with a medium as playful as cartoon animation, and I feel like it gave me the opportunity to present visual concepts that would have otherwise been unfeasible. There's also a part of me that knows how valuable it would have been for young Binoy to see this video and its queer brown protagonist, so I wanted to make something that can be shown to kids today in a format that piques their curiosity. Representation truly is everything
You were born and raised in Nairobi. Kenya is a country where gay sex is still illegal, and public opinion of LGBTQ+ people is negative. How did you find the courage to be your authentic self openly, especially growing up in an environment that offered you little to no protection? 
That's a tough one. As much as I loved growing up in Kenya, my queer journey only began after I left. In fact, I didn't meet an openly gay person until I was 18 years old, and only started coming out to close friends when I was 21. The truth is, that environment cultivated a lot of repression and self hatred, as is to be expected when your existence is deemed an abomination by the society around you. I often think about who I would have become if I stayed, about whether it would have further repressed or somehow emboldened my true identity. Nonetheless, self-acceptance is as patient as it is elusive, and I'm very grateful now to be at peace with that part of my identity.
'Boyhood' is very personal and autobiographical in nature. What message would you have for other queer youth to help them find your way as you did?
You are so much tougher than anyone will ever give you credit for. The world is unkind to strangeness and being queer is the most beautiful kind of strange. The older I get, the more I truly understand that the odd parts of ourselves are what make us powerful, that our inability to conform is what grants us perspective. You won't always feel comfortable being yourself, even after you think you've crossed that bridge, and that's alright. Not every space or culture embraces us, but in those moments hold tightly to yourself and know that there are truly so many others like you in this world. One day you'll find someone, and then another someone, and another, all of whom will let you be whoever you choose to be. Reciprocate that energy, and in time you'll unfold into all of your glorious technicolor.
You list Taylor Swift, Fleetwood Mac and Mika as a few of your influences – all very different artists! Your music also seems to be unafraid to traverse genres to create a unique sound. When creating a song, what is your process in finding the right sound and pairing it with your lyrics?
That's such a great question. When conceptualizing a song, I often start with a title or hook / chorus. It then becomes a matter of honing in on the intention behind the track, namely the mood and general emotions I'm trying to convey. Sometimes that inspiration comes alongside the title or writing fragment that I start with, but in cases where it doesn't I usually set the idea aside in my brain somewhere and let it ruminate. Over time, I'll hear songs and write lyrics here and there that start to really guide the direction of the track, with the final step being to craft a reference playlist that we can draw from during early production sessions. I think the willingness to meander between genres is something I definitely picked up from Taylor, and has since become a hallmark of my creativity that I really value.
What more do you have in store this year? What can fans expect from your music to come?
I have so much coming up this year that I'm excited about! 'Boyhood' is actually the title track of my upcoming EP, set to be released in mid-May. The project unpacks different parts of my adolescent experience, and I'm so unbelievably proud of the writing and production on every single song. I've also begun work on my debut album, which is thus far exceeding my expectations and has pushed me outside of my comfort zone in the best ways possible. I think fans are going to be continually surprised by my willingness to experiment sonically and switch it up as I keep on sharing my story. Outside of music, I've also launched my first ever merch collection that I designed together with a couple of friends, and I'm so excited to watch that bloom and grow as I gain more confidence.
Connect with Binoy: