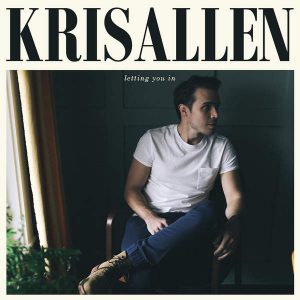 Kris Allen has come a long way since his American Idol win in 2009, and that's saying something. His debut eponymous album has songs you're likely to still hear in public – 'Live Like We're Dying' and 'Alright With Me'. His sophomore record, Thank You Camellia found Allen coming into his element, with true pieces of pop perfection like 'Rooftops', 'Better With You', and 'The Vision of Love'. Following these two major studio albums, Kris turned to an independent label for his next release, Horizons, opting for a more indie/pop sound.
Horizons had its moments, but with Kris Allen and Thank You Camellia being so strong, it was hard to compare to the production and budgets offered by the backing of a major label. Without a doubt, Allen is extremely dedicated to his craft, and his upcoming album, Letting You In, finds the perfect mix of pop lovestruck songs that made you love him in the first place and blends it with the indie edge where he sounds his most authentic.
Letting You In begins with 'Love Will Find You', a song that hits all the right notes with lyrics that are certain to touch your heart. Whether you're fresh off a breakup or deeply, madly in love with the one, this is a wonderfully optimistic song that would melt even the coldest heart. I must admit, the last thing I've be in the mood to listen to lately are songs about love, but 'Love Will Find You' brought me around, and Kris' magically soothing voice works wonders to help anyone forget about their problems.
The next track, 'Time Will Come' continues to speak to the hopeless dreamer in us all and serves as a gentle reminder that with patience and determination, our time will come when it's meant to happen.
The first single from Letting You In, 'Waves', was released back in February. Allen told People that this was the first track he wrote for the new record and that it inspired the rest of the tracks. After being in a head-on accident in 2013, Allen has only regained 30% of the movement in his wrist — but his passion for music keeps him going. It's obvious in tracks like 'Waves' that the love in his life also inspires his music and pushes him to new heights.
'Faster Shoes' is a fun, upbeat track about running away from your problems. His songs like this are amazing – despite not being the most commercial, I'm sure this will be one of the highlights of his upcoming tour for its wonderful sing-along quality. If you haven't seen Kris live already, check out his website for the dates of his upcoming tour that kicks off March 31.
"We can't let tomorrow be another today / if we keep doing nothing, then nothing will ever change." Kris laments on 'If We Keep Doing Nothing', a melancholy track with an epic production that harkens back to yesteryear. Letting You In begins to do as the title suggests – letting you in to Allen's deepest thoughts and getting personal. It's raw and real, and even a fairly simple track like 'Way Up High' manages to make the emotion behind Kris' lyrics palpable.
'Feeling This Way' is a standout – it's just one of those tracks that from the very beginning, you know you'll have this track on repeat. Kris' voice is calm, cool, and collected as he croons 'I might not be okay/ but I'm getting used to feeling this way.' For anyone who's never truly satisfied and is always working toward something better, 'Feeling This Way' is an anthem to embracing life's perpetual changes.
Letting You In's title track is a classic Kris Allen song – a heartfelt ballad with strongly imaginative lyrics that paint a picture in your mind of true love. Kris' ability to tug at heartstrings is at its finest here and on all the tracks of Letting You In. The genius of his lyrics are how easy they are to be empathized — he may be singing about something as simple as someone catching your eye in line at the grocery store, but his lyrics are so real that you can't help but remember when something like that has happened to you. These lyrics along with Letting You In's charming production pair together for a track list that shines for its ability to make you smile, laugh, and maybe even bring a tear to your eye.
Letting You In will be released on Friday, March 18th. Visit KrisAllenOfficial.com for more details and tour dates. You can preorder Letting You In on iTunes here. Pre-order the CD on his official store and you'll get an autographed copy here. Keep up with Kris on Twitter and Facebook.