Kris Angelis has a new song 'Bright Side,' a fun pop number that's sonically different from the Heartbreak is Contagious singer's past work. Kris talks with us about the new song, where she's going with her sound, and what her fan's support means to her. Listen to 'Bright Side' below.
Angelis will be giving half the proceeds from the pre-sale and this week to the fund for the victims of the Las Vegas shooting. Lovely! Purchase the track here.
'Bright Side' is pretty different from the usual folk/acoustic sound your music has. What inspired this change? 
I wanted to try something more upbeat and empowering and step out of my comfort zone. It's not that I wanted to totally change my sound. I'll still be making folk/acoustic music; I just think it's good to try new things and explore creatively, and now I have more of a range of feeling and sound.
The song may sound different, but it's certainly got that optimism that can be found in a lot of your music. How do you stay positive, even when times get tough? 
I am incredibly lucky to have a wonderful family and group of friends who are extremely supportive and fun. Even when things are hard, I have people who comfort me, help with the situation, talk it out, and make me laugh.
What was it like working with Adrianne Gonzalez on this song?
I was excited to get to work with Adrianne because she is a member of one of my favorite bands (The Rescues) who have influenced my music. So when our mutual friend shared my music with her, and she contacted me saying she loved it, I was pretty stoked.
It's an awesome feeling to create with people who have enthusiasm for each other's work. She is fun and chill and encourages risk taking. If I remember correctly, we wrote the whole song in a few hours and then had another session to record it, and she did a great job with the production.
We actually started with the percussion which is a main feature of the track. I'd never done that before. When we were writing the "Oh Oh" post-chorus, we had a bunch of options for the pattern and melody, and we couldn't decide, so we did them all, which made for a challenging and funny recording session.
Your latest EP, Heartbreak is Contagious, is a really beautiful and thoughtful look at love. Did you learn anything about yourself when working on the EP?
Oh that's a good question, and I'm sure I did…I definitely feel like I've grown a lot since the time when I was writing those songs. I've learned more about what I want and need and how to stand up for it in relationships and music/career.
'Bright Side' reminds me a lot of one of my favorite artists – Gwen Stefani. She experiments with genres a lot. Are there any other genres you'd like to work with?
I have been doing a lot of cowriting and working with different producers who have different strengths, so you'll be hearing a variety that hopefully still has a cohesiveness because I cowrote and sang the songs. I have a song coming out in November that I cowrote with Chase Bell that's sweeping and cinematic with lots of live strings, and I'm also the featured artist on a track by Hotwork (Chase Rossner) that sounds more like Alessia Cara or Selena Gomez. That's not necessarily my style as an artist, but it was really fun to work on, and I enjoy listening and dancing to that type of music.
I have always loved the Americana sound, and I'd like to get more into that and do more stripped down tracks where it's all about the song: melody and lyrics. I recently became obsessed with the song "Wine and Whiskey" by Jeff Hahn. I also want to write songs and tracks that you can stomp your feet to like [indie folk band] The Head and the Heart. They blend a pop/contemporary feel with folk/Americana ,and that's what I'd love to do more of. 
Who are your biggest musical influences?
There are so many, and I've mentioned some of them already, but the ones that I would say are the main catalysts that made me jump into making music are Hanson (yup, the mmmbop boys. They've been writing and releasing music since then and haven't stopped – check it out!) and Brandi Carlile.
I discovered Hanson and was so impressed by how young they were and the fact that they played their own music, and I learned how to harmonize with my twin sister to their songs. I felt like if they could do it, then that was something that was possible for me too.
Then, coincidentally, I saw Brandi Carlile opening for Hanson and her music and voice was so raw and emotional, and I connected with it. I felt like her lyrics were what I would write,  and I went home after that concert, picked up a guitar and notepad and started writing songs. I had written some little stuff when I was very young, but that was the moment I really became a singer/songwriter. Both of those bands are also huge influences in the way they are as people and their activism. They use their success to help other people, and that is something I look up to and strive for as well.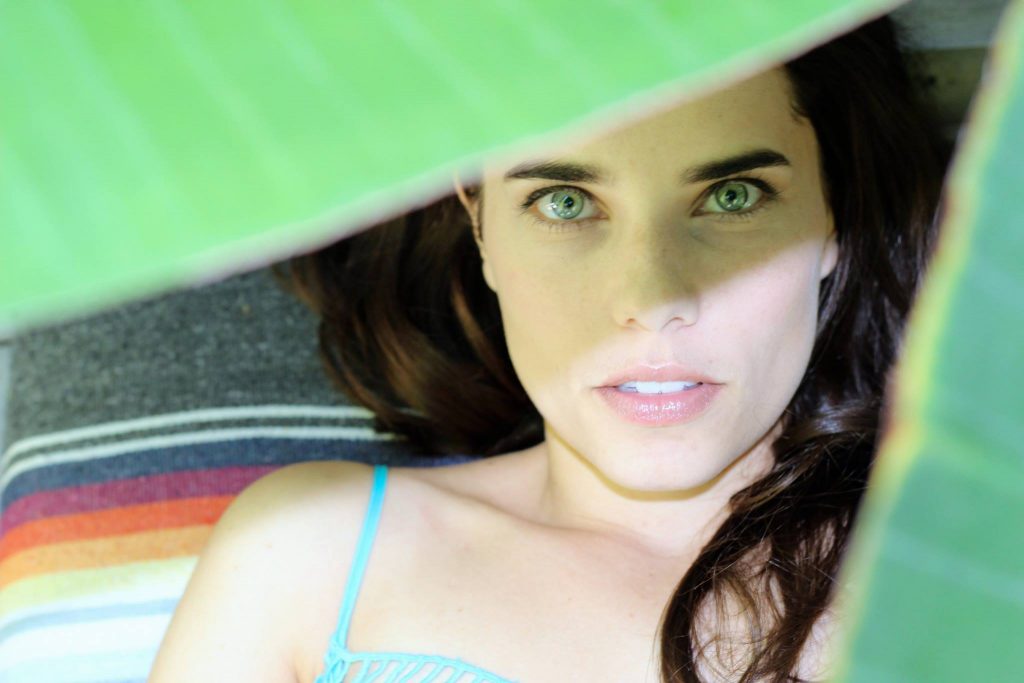 You'll be performing at a benefit for victims of Hurricane Harvey in October. What's one thing concert-goers can expect when they see you perform live?
One thing other than me singing and playing acoustic guitar (usually the stripped down versions of my songs, but if I can get my sister to sing harmonies or am lucky enough to have the fantastic musicians who play with me be available, it will be a fun, organic sound) people can expect to hear me tell little backstories of the songs and make commentary about whatever I'm thinking about. I like to connect with the audience on that level. I like to see who the person is when I go to a show and laugh and it makes me feel less nervous as a performer when I feel like the people watching are with me.
You have a Patreon where fans can help you create songs and videos. Websites like Patreon have been really helpful to a lot of up-and-coming artists. How has Patreon helped you, and what does the support from fans on the site mean to you?
Patreon has been so helpful because it's a way for me to make some income from my music so that I can keep making [songs] and pay for the things that will help it go further like publicity, great producers, and music videos. In the current climate of the music industry, it can be hard for an indie artist to make enough just from music sales, so Patreon is a place to build a community of people who are such fans that they are willing to pay for whatever you are making in an ongoing way. That fact alone, that there are people out there who support what I'm doing that much, is deeply encouraging! It helps me know that I should keep going and perseverance is one of the biggest factors to success. 
When you're not working on your music career, what do you like to do for fun?
I feel like I'm constantly working on it and thinking about it, but when I'm not actively working on the career aspect, I love to go see music. Outside of the music realm, I enjoy being in nature – hiking, picnics, camping – and playing games. I get together with friends and play Settlers of Catan, Pandemic, (we got the crazy long form version that's still in progress!) Secret Hitler…
I've never actually played D&D but have started working on my character, and I'm excited to get in on a campaign. We also play Running Charades which is a fast paced, super competitive version of charades, and we do movie marathon days with a certain director or theme. That has recently gotten upgraded to giant outdoor screenings which combines a few of my favorite things: Friends, movies, outside, picnic, blankets…we did that for the season premier of Game of Thrones and we dressed up. I had a sword. (Editor's note: Amazing.)