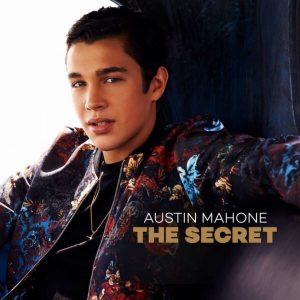 Comparing popstars is like comparing apples and oranges. No matter how different they are, people still love to find similarities anyway. One thing Austin Mahone has in common with Justin Bieber is that they both don't want to be Justin Bieber. Lately, it seems as if Justin is tired of living up to the wholesome image that the world has of him, and certainly Austin wants to stand on his own two feet and not be labelled as being the next version of a star who's fairly new to the scene himself. Austin, however, does have the wholesome image that is so loveable.
His EP, The Secret, is reminiscent of 90's hits by 'N Sync or the Backstreet Boys. Hopefully as Austin gets more well known, it'll be easier for him to etch out his own place in the music scene free from constant comparisons. Will he have any longevity is the real question to wonder, but his star is certainly still rising. It'd be hard to write him off now when the music industry is ever changing, and he is changing and growing with it.
When listening to The Secret for the first time, and it being my first time actually experiencing Austin's music, I listened with an open mind, ready to make an informed opinion on whether he's just a Youtuber lucky enough to get a music deal that will fade away all too soon, or if he poses a serious threat to the other young male popstars of today.
Track #1 – 'Til I Find You' –
The Secret opens up with a song that could've been lifted right off a Backstreet Boys or 'N Sync album. It's catchy, and certainly geared towards a female audience that's perhaps older than you might expect. Any '90's kids will more likely than not enjoy it, for nostalgia if nothing more. Sure, it's rather dated, but everything goes in and out of style. Rather than following in the footsteps of his contemporaries, Austin takes it back further and puts his own twist on things, while paying homage to the bands of his childhood.
Track #2 – 'Next To You' –
Lyrically, this song rivals Bieber's 'That Should Be Me', with Austin singing to a girl that's in a relationship, but Austin knows she'd be better off with him. Sonically, it continues the '90's nostalgia, which as a kid of that decade is refreshing but nothing boundary pushing. Of the two songs about wanting someone who's already in a relationship, I'd choose 'Next To You' over 'That Should Be Me.'
Track #3 – 'MMM Yeah' feat. Pitbull – 
Mahone teams up with Pitbull for a fun song and video. It's a bit of an awkward collaboration, with Pitbull (33) and Austin (18) joining forces for a track that's got little lyrical substance, but, in signature Pitbull style, is still a grower anyway.
Track #4 – 'Secret' –
A clear choice for a future single, 'Secret' shows a confident Austin singing to a girl to get her to confide her secrets with him. Austin's voice sounds superb, and RedOne's production continues the Backstreet Boy's homage. Towards the end the lyrics get a bit silly with "You are not alone / I'm your safety zone," but it's easy to forgive and forget because the track is a real tune.
Track #5 – 'Can't Fight This Love' –
'Cant Fight This Love' is a sugary sweet track that may give you a cavity just from listening to it. Lyrically, this track has more substance than any of the songs before it, and it's also the most relatable. It's an enjoyable listen, but the production is a bit too dated to give the track much success as a single.
Track #6 – 'All I Ever Need' –
This is one of two tracks on the EP produced by Austin, and it's also the track with the fewest writers: Robert Villanueva and Mahone himself. That alone makes it a standout track, because the result is a wonderful slow jam and ballad. Austin's prowess at producing is a skill he should definitely utilize further in future releases, because 'All I Ever Need' feels the most natural and least forced track on the EP.
Track #7 – 'The One I've Waited For' (Bonus Track) –
Another slow tempo track, 'The One I've Waited For' sees Austin singing about giving a girl all he's got, knowing she's his true love. Strip the track back from RedOne's production and give it an acoustic treatment with just Austin and his guitar, and this will be a highlight of Austin's upcoming tour.
Track #8 – 'Shadow (Acoustic)' [Bonus Track] –
The other track produced by Austin, this acoustic version of 'Shadow' once again feels natural and authentic. It's more of a pensive and thoughtful track than the rest of the EP, which makes it stand out, and thankfully it's a good song to end on, showing off Austin's more delicate and compassionate side.
After listening to The Secret, it's apparent that Austin Mahone has big shoes to fill and an uphill battle ahead of him in securing a place of prominence in pop history. That said, he shows a lot of promise, and if he goes forward and takes the right steps to keep his fanbase happy, he'll be sure to enjoy success for a long time to come.