Melbourne-based singer Ben Hazlewood has released a new single called "Sail Away." The track showcases Hazlewood's powerhouse voice with a production that's just as moving and powerful. Ben recently spoke with POParazzi about the release of the single and his upcoming American tour starting next week in California. Listen to "Sail Away" below and read on for Ben's interview.

POParazzi: Hey Ben! Thanks for taking the time to answer some questions about your music and your new song, "Sail Away." Is there anything in particular that inspired the creation of this song?
Ben Hazlewood: This song was written whilst drinking a lot of rum talking about pirate shanties. it started off as just the chorus idea, and as the story around it grew I became very attached to the mood and emotion in the song.
POParazzi: "Sail Away" has a powerful production that seems to swell and draw the listener in. How was it working on the song's production?
Ben Hazlewood: "Sail Away" was a difficult song to pin down the right feel for the production. We worked through several versions of the track and changed vibe and feel  a lot before I really felt we had nailed it!
POParazzi: What's your creative process like? Do you enjoy writing and working with others, or are your songs usually written by yourself?
Ben Hazlewood: It depends. Some of the best tracks have been group efforts, and some have been solo creations. It really comes down to the feel in the room and if an idea will spark something amazing and take off or crash and burn like and old wooden plane.
POParazzi: When did you first realize your passion for music was going to be your career path?
Ben Hazlewood: I had always grown up around performing and being on stage so it was in my blood. But I think I decided it was what I wanted to do when I starting writing my own music when I was 13. That's when I understood it was such a big part of who I am and wanting to keep writing and creating.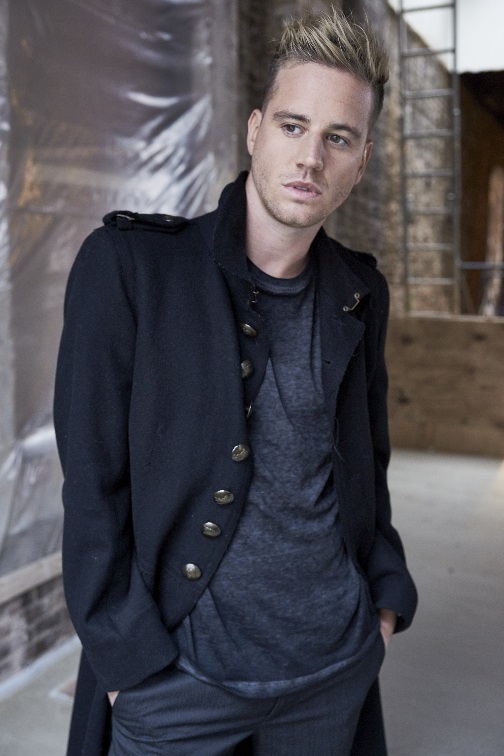 POParazzi: You were on "The Voice" in Australia. What was that like, and how has your music grown since that experience?
Ben Hazlewood: The show was a great time; I had a lot of fun on it. The best advice was given to me by Joel [Madden.] He said, "Whatever happens, this isn't the be-all and end-all of your career." Because of that, I took a more relaxed approach to the whole experience. [Now,] my music is more me. It's what I feel, the way I feel, and about the stories I want to tell.
POParazzi: Do you remember the first song you ever wrote?
Ben Hazlewood: Yep…. It was shit! Like really, really shit. Some terrible version of an All American Rejects track! Thank God that will never see the light of day.
POParazzi: Do you have any other creative outlets other than singing?
Ben Hazlewood: I'm into fashion. I feel that what you wear can say as much about you as what you say.
POParazzi: You recently announced an American tour this spring. What are you most looking forward to about hitting the road?
Ben Hazlewood: I'm excited to get back in front of audiences in the U.S.  They have all been super supportive of my live show and my music so I'm looking forward to heading back out to perform my new material from my second EP, EOS.
POParazzi: What was your favorite song growing up?
Ben Hazlewood: "Gimme Shelter" [by the] Rolling Stones [is] still […] one of my favorite tracks of all time.
POParazzi: What artists do you admire / would you say have had an influence on your sound?
Ben Hazlewood: At the moment: Daughter, Bishop Briggs, Woodkid, and Francis and the Lights.
POParazzi: Who would you love to work with on a song?
Ben Hazlewood: I have been fortunate enough to work with a lot of awesome songwriters as of late. I just want to work with people who get my vibe and create an unmistakable emotion through the music.
POParazzi: How has music changed your life?
Ben Hazlewood: I feel like at times I have been blessed and cursed with the talent and drive to enter into this industry. I am lucky that I have [this] outlet […] to express myself through music and hopefully help others feel what they need to feel through it. As long as I keep in mind that it's always about the music, then it will have changed my life for the better!
You can download Ben Hazlewood's "Sail Away" on iTunes. Keep up with Ben on his official website, Facebook and Twitter. His upcoming tour dates are below.
Ben Hazlewood – West Coast 2017
2/23 – San Diego, CA
2/25 – Costa Mesa, CA
2/26 – Los Angeles, CA
2/27 – Fresno, CA
2/28 – Napa, CA
3/2 – Portland, OR
3/4 – Seattle, WA
[Editor's note: A previous version of this interview stated Hazlewood as being based in Sydney; it has been corrected to his correct location in Melbourne.]