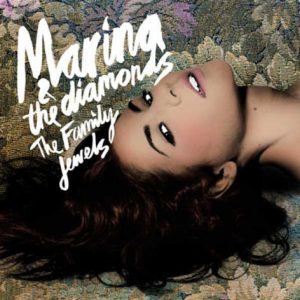 Before Electra Heart saw Marina & The Diamonds taking the pop world by storm in 2012, Marina released her first album, The Family Jewels in early 2010. The two albums complement each other in the sense that they are really yin and yang, polar opposites that come together to form Marina as an artist and celebrity. Fans of Marina's that only know of Electra Heart are really missing out on a fantastic album of raw talent that The Family Jewels showcases.
I've had the pleasure of meeting Marina twice, and watching her perform songs off The Family Jewels is honestly one of my favorite concert experiences. She is a true artist, committed to her craft (especially during her Electra Heart era). The Family Jewels gives fans a glimpse at who Marina really is – not the manufactured SuBarbie-a that she assumes the role of during songs in Electra Heart. Through The Family Jewels, we see Marina's true soul, and in contrast to Electra Heart's manufactured sugary sweetness, it shows that she's a very deep human with an old soul and raw talent.
Don't get me wrong, though. I love Electra Heart. It is pure pop goodness, and Marina's unique voice could probably sing the phone book and I'd find it delightful. Regardless, as catchy as the songs off 'Electra' are, The Family Jewels is the better of Marina's albums because it delves deeper and is comprised of all the talent Marina has to offer.
Track #1 – 'Are You Satisfied?'-
As soon as the album begins, Marina poses a pertinent question to herself and her listeners: "are you satisfied with an average life?" This track goes on about Marina's hunger for greatness before her success. "They say I'm a control freak / Driven by a greed to succeed/ Nobody can stop me." She is a big dreamer, and she is determined to make her goals a reality. This song is an anthem for anyone with aspirations.
Track #2 – 'Shampain' –
Shampain is a terribly clever song about the dark side of getting drunk. It's one of the simpler tracks on the album, but is still rather brilliant. The video is dark, gloomy, and gorgeous – probably three words that sum up The Family Jewels perfectly.
Track #3 – 'I Am Not A Robot'
'I Am Not A Robot' is the first song of Marina's I'd ever heard, and I got it as a free download on iTunes. Instantly, I was hooked. The song is rather whimsical, but at the same time pensive and reflective. The lyrics are relatable to anyone who feels stuck, be it physically, emotionally, or otherwise. Marina reminds herself that we aren't robots, and it's our duty to follow our passions.
Track #4 – 'Girls'-
We find a cheekier side of Marina in 'Girls', as she sings about gender roles and how she just doesn't fit into them. The Welsh singer also name drops British girlband Girls Aloud (if you haven't heard them, you should definitely check them out, too!) 'Girls' is lyrically very clever and catchy, but it's also very bubbly. I find it hard to believe any tomboys would consider it an anthem, but nonetheless it's a superb track.
Track #5 – 'Mowgli's Road' –
Hmm, things take a turn for the odd with 'Mowgli's Road'. Both the song and its accompanying music video are strange, but Marina looks and sounds as perfect as ever. With lyrics like "ten silver spoons coming after me", it's a bit hard to take 'Mowgli's Road' too seriously, but it still manages to be a fun and decent track. There are plenty of other songs on the album that would've been better singles in my opinion, and 'Mowglis' Road' is one of the weaker tracks on 'The Family Jewels'.
Track #6 – 'Obsessions' –
The first single from The Family Jewels, 'Obsessions' is a rather raw track without much production, featuring Marina singing about a relationship gone wrong. The music video is as simple as the song, showing Marina putting together a metal diamond. There is a charm to 'Obsessions', and it is beautiful to watch Marina perform the song live, but it's not the best on the album.
Track #7 – 'Hollywood' –
Following two average tracks comes 'Hollywood', ready to gear The Family Jewels back in the right direction. This song is a masterpiece, simultaneously glorifying and exposing everything wrong with Hollywood and society. It also features one of the best lines on the album:
"He said, "Oh, my god, you look just like Shakira. No, no, you're Catherine Zeta!" — "Actually, my name's Marina."
How can you not love it?
My love for 'Hollywood' runs so deep, that I'm going to chuck in the acoustic video for it as well so you can enjoy it's brilliance, too. While the album version is great, Marina really performs the hell out of the acoustic here.
Track #8 – 'The Outsider' –
Yet another song for anyone who feels like a loser, 'The Outsider' is Marina at her finest, singing an infectious song about not fitting in and yearning to escape from a mundane and boring life surrounded by people who are all the same. 'The Outsider' is an outstanding track, and one of my favorites on The Family Jewels.
Track #9 – 'Hermit the Frog' –
'Hermit the Frog' continues Marina's love of wordplay, like in 'Shampain', and sees her singing to an ex-lover that didn't do anything for her self esteem.
They call him Hermit the Frog/ He's looking for a dog/ Did you find your bitch in me?
Marina's lyrics are as clever as ever, but the song lacks a certain something from making it memorable compared to the stronger tracks on the album.
Track #10 – 'Oh No!' –
Oh, yes! Once again, Marina is singing about her hunger for success, and the result is pop gold. Everything the other divas sing about – love, money, fame – Marina proudly defies, letting the world know she wants something more: to make a change. She lets us in on her more vulnerable side, though, and tells us that "I feel like I'm the worst, so I always act like I'm the best." 
The daunting task ahead of her starts to get to her by the end of the track, as she frantically worries. "I'm gonna live, I'm gonna fly…I'm gonna fail, I'm gonna die." Don't worry, Marina…we all worry, too.
Track #11 – 'Rootless' –
Marina slows it down for the rest of the album, and as a result it starts to drag in pace a bit starting with 'Rootless.' The song is very metaphoric, and could mean a variety of things from being a musician and traveling alot, to feeling like you have no true home and are an outcast in your society. Knowing Marina, it is probably a mix of the two. 'Rootless' has some nice and memorable lyrics, but the track just isn't as good as the songs before it.
Track #12 – 'Numb' –
Another slow song, 'Numb' finds Marina lamenting the fact that her life has made her put certain things ahead of her family and friends. She misses them, and feels that the success she longed for in the earlier tracks just isn't worth the trade of losing the ones she loves. Marina feels numb knowing "the lower I get, the higher I climb." She feels worse and worse as her stardom gets bigger, preventing her from seeing her family and friends even more. 'Numb' is touching, and one of the highlights of the show when I saw Marina perform it.
Track #13 – 'Guilty' –
A bit like 'Mowgli's Road', we see Marina singing of something rather odd in 'Guilty.' It appears she has some remorse about killing a dog in her youth. Whether it's all metaphorical or just a terrible accident that she's still hung up on, hopefully she got it all out of her system with 'Guilty' so that there doesn't have to be a similar track on her next effort.
Marina and the Diamonds got off to a great start with The Family Jewels, and the album comes together nicely in the end. Newer fans may not realize that Electra Heart was originally intended as a side project for Marina (she actually wanted to release it under a different name and identity completely.) It's understandable, seeing as The Family Jewels is so different from Electra Heart, but they are both superb albums of which Marina should be proud. Deep down, though, I hope Marina returns to her true self and returns back to the raw emotion and inner self that she let us get a glimpse of with The Family Jewels. With her success from Electra Heart, it could really change the game in pop music.