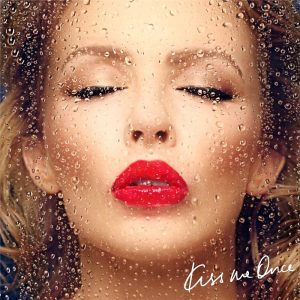 To be a pop music fan, it should be a requirement to adore Kylie Minogue. Her music is always impeccable, her look is on point, and she has an innate elegance to her that just makes her so lovable. She's above the drama, and her voice needs no attention seeking crutches to stand tall. In a world where every new girl on the scene strives to be the next pop princess or queen, Kylie Minogue is a goddess (or should I say the goddess, Aphrodite?)
Kylie's latest album, Kiss Me Once, continues her legacy of top notch pop songs with some real gems and a few run-of-the-mill tunes. It's a rather short record, coming it at under 40 minutes, but it still features a hearty 11 songs. Kiss Me Once focuses more on quality rather than quantity, which is a good thing for the most part. It's an enjoyable listen with little filler, and even its low points will still be enjoyable depending on your taste and preferences.
Track #1 – 'Into The Blue'
Kiss Me Once begins with 'Into The Blue', the first single from the album and also its longest track. Kylie sings about being independent and content with herself. It's an uplifting song that is 100% authentic Kylie, and is sure to cheer you up when you're down. That said, it's comprised mostly of keyboard and synth, and isn't a very bass heavy track, which, in my opinion, could've helped round out the track a little better. Regardless, it's still a wonderful release from Kylie.
Track #2 – 'Million Miles' –
I really love this track for some reason. It's the typical love song, daydreaming of being with your crush, but Kylie makes it all seem so effortless. It's easy to get caught up in a song this fun, with a repetitive but catchy chorus. It comes in right under 3:30, and would make an obvious choice for a single, should there be another one from the album.
Track #3 – 'I Was Gonna Cancel' –
It didn't surprise me to see that this song was written by Pharrell. Not to knock him, but it just really doesn't come across as a signature Kylie song. The lyrics are borderline asinine and completely uninspired. If it was Pharrell's job to spice up this album, the result is abysmal. With much more interesting and competent songs on Kiss Me Once, 'I Was Gonna Cancel' seems more of a single to cash in on Pharrell's popularity, rather than to highlight the best of Kylie on the album.
Track #4 – 'Sexy Love' –
Right up there with 'Million Miles', 'Sexy Love' is a tune. Lyrically, it's rather simple, and nothing about the song pushes any envelopes, but it takes a tried and true method and produces an amazing song that stays in your head long after the first listen. 'Sexy Love', 'Sexercize', and 'Les Sex' are probably the top tracks on Kiss Me Once, which probably makes me look more hypersexual than anything. Regardless, singing about love and sex is what Kylie does best, and 'Sexy Love' is no exception.
Track #5 – 'Sexercize' –
Looking at the comments on the music video for 'Sexercize', it seems the public is split, or just generally doesn't like this song (or rather, the video.) Some called it 'dated', while others scrutinized the video for its gratuitous sexuality (is such a thing possible in a song called 'Sexercize'.) I'm more of an audio-based music fan, listening to music rather than watching music videos regularly, so when I first heard 'Sexercize', it was when listening to the entire album, and I enjoyed it.
I must agree with some of the comments left, though, that part of Kylie's charm is her cheeky modesty. She does sexuality without ever having to border on explicit. While the video is far from pornographic like some commenters tried to make it out to be, it certainly is titillating and sensational. Watch the music video for the song below, and make an opinion for yourself.
Track #6 – 'Feels So Good' –
This song isn't as upbeat as the tracks before it, but it's still got a good beat nonetheless. 'Feels So Good' will lure you into a dream state, and depending on your taste in music, it can be a dream come true, or just another pop song that you may find yourself skipping over to get to more exciting tracks on the album.
Track #7 – 'If Only' –
'If Only' keeps the pace slower like 'Feels So Good' before it, and like 'Feels So Good', it's a track you'll either enjoy or skip. Neither song is the best on the album. This, however, is the one with the better lyrics. 'Feels So Good' has a better beat and is overall more listenable.
Track #8 – 'Les Sex' –
'Les Love, Les Sex, Le Love'…right from the beginning of the song, you know instantly you're in for a treat. The charm of 'Les Sex' is its simplicity, with the majority of the 3:47 track being Kylie warbling 'Les Love / Les Sex / Love Lo-ooove'. Don't write 'Les Sex' off as lyrically inferior, though, because it contains this gem, probably my favorite lyric on the entire album:
Take two of these and meet me in the shadows

If love's a drug, we're higher than stilettos

But you never know
That's just the epitome of being Kylie.
Track #9 – 'Kiss Me Once' –
The title track of the album sees Kylie singing about making it through a relationship with all its ups and downs. She sings about winning a war and getting relief. It's a bit of a pop music lullaby, with Kylie putting you into a trance that could easily send you to sleep to have sweet dreams. For any Kylie fan that's in a serious relationship, this will surely be a highlight.
Track #10 – 'Beautiful' (feat. Enrique Iglesias) –
When going to re-listen to Kiss Me Once, I was surprised (maybe not) that this song wasn't still on my iPod. Finding it in my iTunes, I realized why. It's so corny. This is a mushy love song in every sense of the word, but it's still a bit touching. If those kinds of songs are up your alley, you'll more than likely find 'Beautiful' to be a great ballad.
Track #11 – 'Fine' –
The final song on Kiss Me Once pretty much sums the album quite nicely. The verses have great lyrics, and it features a simple and repetitive chorus. Kylie ends the album on a rather melancholy note, singing 'The night is full of tears you cry', and 'You got it all but you don't feel complete / Even the sweetest things are bittersweet.' She assures everything will be 'Fine', but the resulting song is a bit wishy-washy.
Like the final track's title says, Kiss Me Once is a 'Fine' album from Kylie, but I doubt many would say it's her best work. There are some standout tracks mixed in with some average once, making this an album you should have in your collection even if you find yourself deleting some of the songs that just aren't the best.