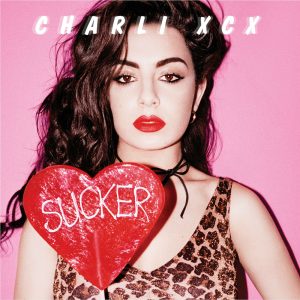 Charli XCX's Sucker is an album I'd been looking forward to listening to, but was never really compelled to get the day of its release. I'd heard of Charli before, of course. She opened for Marina & The Diamonds on the Lonely Hearts Club Tour, and rose to fame alongside Iggy Azalea in the summer smash 'Fancy'. Before the release of Sucker, 'Boom Clap' and 'Break The Rules' were released (both very good), and riding the popularity wave of 'Boom Clap' and 'Fancy's success, the release date for Sucker was pushed back. Was the wait worth it?
Sucker begins with its title track, and Charli quickly sets the tone for her album: unapologetic and fun. 'Sucker' reminds me somewhat of a track I'd hear released by the Rogue Traders. 'Sucker' isn't necessarily about the lyrics of the song, which are rather nonsensical and silly, but about the crazy result of them paired with some top notch dance beats. Off to a good start!
'Break The Rules' comes up next, and Charli continues to embody her persona of a rebel more content having fun than doing anything serious. 'Break The Rules', like 'Sucker' before it, has little to delve into lyrically; the first verse is simply 'Electric Lights / Blow My Mind / I feel all right.' What the song lacks in lyrical quality, it makes up for being fun and nonchalant, with an enjoyable music video to accompany it.
'London Queen' seemed promising to show a bit more of a personal side to Charli with its somewhat longer first verse, and it certainly shows fans some of Charli's backstory (moving from Britain to America to pursue her dreams of recording music), but 'London Queen' is just like the tracks before it: little substance but still enjoyable.
Charli lets an ex have it in 'Breaking Up', and while she certainly gives some quasi-good reasons to cut ties, the track would be better if it weren't so short (only 2:17!) For Charli to have gotten her start in music writing for others and then went off to release her own music, Sucker does little to show off her writing skills and more to showcase the album's light and fun theme that is easy to dance to. The only problem is: would these tracks be just as fun to dance to instrumentally (or with another artist singing over them?)
'Gold Coins' is like Lorde's 'Royals': Charli is dreaming of the high life and all that comes with it. Then comes 'Boom Clap', the song that more than likely got the public interested in Charli, and with good reason. It's one of the most personal and intimate songs on the album. The repetitive chorus in 'Boom Clap', like the rest of the album, is what the mainstream radio eats up.
Like the title of the next song implies, 'Doing It' continues after 'Boom Clap' in showing a more intimate side of Charli. In her pop-punk element, 'Body of My Own' is a song about masturbation, and it's surprisingly good and not as graphic as one would expect. The beat picks up with 'Famous', a song about going out and having a girls' night out. 'Famous' is fun and certainly not a paint-by-numbers pop song; it actually takes a minute or a few listens to adjust to the song's structure and appreciate it for the jam it is.
'Hanging Around' is about escaping a small town and heading for the city life. Reminiscent of something you'd expect from No Doubt with its unabashed punk lyrics, 'Hanging Around' is a refreshing track that finally offers more substance than a catchy hook or chorus repeated over and over for near three minutes.
Charli revealed on Twitter that the next track, 'Die Tonight' was written with One Direction in mind, but she ended up loving the track too much and kept it for herself. As grim as the title and subject matter is, this could very easily be a smash released by the 1D boys, but it fits Charli's aesthetic better and it's easy to see why she kept the track for Sucker. This would make a wonderful summer single.
Caught in a love triangle, Charli croons on 'Caught in the Middle' about being intertwined in a relationship where she's the other woman. It's a shame that the album is actually about to end when the last few tracks began to get so good, finally showing a Charli that's capable of writing an entire song and performing it superbly. 'Need Ur Luv' closes Sucker. Charli sings to a lover she needs, even with all the pain that comes with their relationship. This song would be an amazing closer if the production didn't hide Charli's vocals behind the instruments on the chorus. Had the song been left more raw and in-your-face it would have been pure perfection.
In the end, Sucker is a good release from Charli XCX offering some truly wonderful songs that are undeniably catchy. The tracks offering lyrical substance may be far outnumbered by those that are just carefree songs about having fun, but the overall album comes together to be a nice mix showing Charli's strengths as both a songwriter and singer. Hopefully she will continue to polish her talents; Sucker is an enjoyable listen that shows Charli has potential beyond being just a featured artist on today's pop sensations' tracks.
You can buy Sucker wherever CDs are sold and on iTunes.