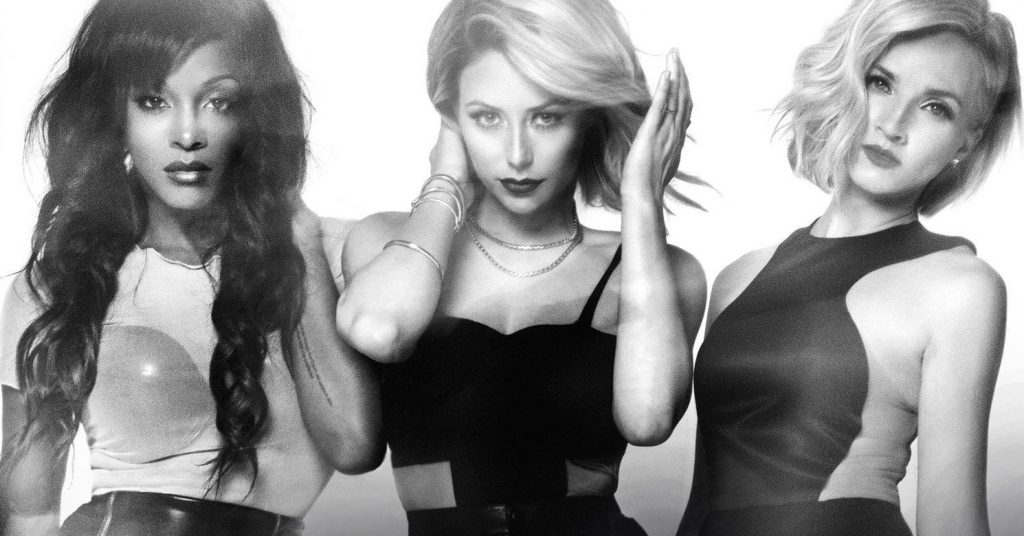 Danity Kane have released their third and final album, DK3, as a goodbye gesture to fans after their latest breakup in August. Although the girls have decided to go their separate ways (probably for the best), the album still shot straight to #1 on the iTunes RnB charts (currently #8 overall), and their fans remain DediKated. Without getting into the drama and catfights that seemed to go on behind the scenes, here's some first impressions of the album and all its 10 tracks.
Danity Kane's previous albums, 2006's self titled debut and their sophomore release Welcome to the Dollhouse, both featured very strong tracks that showcased the girls' talents and fun nature. Before the band's comeback, I had listened to Aubrey O'Day's  solo EP, Between Two Evils, which was another solid release, showing Aubrey can hold her own on a track.
Track #1 – 'Rhythm of Love'
The album opens with the enjoyable 'Rhythm of Love'. Some of the lyrics are a bit predictable, but it seems like it'll definitely be a grower. The Stereotypes wrote and produced the song (and the rest of the album), after previously working with the band on the amazingly good 'Damaged'. Knowing this, 'Rhythm of Love' can seem like a bit of a sequel to 'Damaged', which makes it sound even better.
Track #2 – 'Lemonade'
'Lemonade' was the first song from DK3 fans heard, and it sounds like a total throwback to Danity Kane's first album, and was definitely a wise choice on the band's behalf to release first. It certainly whet fan's appetites and got old DK fans excited in anticipation of the album. The track comes in at 4:24 and features Tyga, and while his verse isn't particularly bad, it seems out of place. If the song had been edited down to a radio edit without Tyga, I imagine it would've flowed better and kept its authentic DK sound throughout.
Track #3 – 'All in a Day's Work'
I listened to 'All in a Day's Work' for a minute, hoping it would get better because from the very first few seconds it seemed promising, but it never delivers. Fast raps and songs like this should be left the professionals, and 'All in a Day's Work' comes off as an imitation of an Iggy Azalea song with a bit of RnB thrown in for good measure. Something about it is a bit too jarring; maybe if the vocals were a bit lower, or not edited so much it would have flown a bit better. Disappointing.
Track #4 – 'Rage'
The tempo slows down for 'Rage', with Danity Kane singing about raging at a party and having a good time being strange. Aubrey sounds wonderful; she should sing more in the tone she does on this track. Despite being a song about partying that's mid-tempo, the track is solid and enjoyable. I'd say Danity Kane's goal was for 'Rage' to sound like an anthem, and mission accomplished.
Track #5 – 'Tell Me'
DK3 continues to slow down for 'Tell Me', which reminds me of 'Come Over' from Danity Kane and 'Strip Tease' from Welcome to the Dollhouse, and if you've heard those tracks before you'll know how good it is. It's a slow jam, full of sensual and seductive lyrics. Danity Kane knock it out of the park on this one, although another verse wouldn't have hurt the track that seems a bit repetitive toward the end .
Track #6 – 'Two Sides'
The album flows right from 'Tell Me' to 'Two Sides', which seems to be the yang to 'Tell Me's yin. 'Two Sides' is about the truth behind any drama and/or a fight in a relationship, and seems a bit prophetic at times about the fate of the band.
We came too far to let it go up in flames

You really wanna know, look behind the scenes.
It seems like Danity Kane are either apologizing or explaining themselves to fans, venting about the frustrations of being in the public eye. 'Two Sides' isn't wholly bad, but it's filler compared to the tracks before it.
Track #7 – 'Secret Lover'
The title of this track alone piqued my interest, and I was pleasantly surprised to see the tempo pick back up again after tracks 4-6. 'Secret Lover' seems like a track lifted from Aubrey's Between Two Evils, with Danity Kane's usual formula for a hit. Like 'Rhythm of Love', this song makes a good first impression, but not a strong one. I imagine it will be a grower, too, and most likely will be stuck in my head after a couple listens. The payoff may not be instant, but it'll still payoff in the end.
Track #8 – 'Roulette'
'Roulette' follows in the same vein as 'Rage'. An anthemic-like beat, but it seems to suffer the same vocal problems as 'All in a Day's Work'. The lyrics and music are all rather good, but the vocals just don't seem to mesh properly with it. 'Roulette' would be better if the girls' voices didn't appear to be so overproduced and closely echoed. It's listenable, but not their best.
Track #9 – 'Pieces'
The album slows down again for 'Pieces', which seems like the album's first proper ballad. It's very good, with the girls all sounding strong and the lyrics being well thought out and skillfully sung. 'Pieces' would fit nicely as a slower counterpart to 'Damaged', with the girls singing 'Is it okay to give you my heart again? Don't break it to pieces'.
Danity Kane shine on tracks like this that just have a simple beat and let their voices do the talking. If 'Roulette' or 'Rage' had been produced even a smidge more like 'Pieces', the songs would be all the better.
Track #10 – ' Bye Baby'
Oddly enough, Danity Kane end their third and final album with a track called 'Bye Baby'. On the rollercoaster ride that is the album's tempo, they end on a high. Rather than being a melancholy song about the girls disbanding, 'Bye Baby' is about kicking a bad boyfriend to the curb. DK3 finishes strongly, and 'Bye Baby' is a total tune. It's simple, but it works.
Overall, DK3 fits nicely with the rest of Danity Kane's albums. They may not be the strongest vocalists, but they released solid and enjoyable music. DK3′s tracks seems to go up and down, and the album more than likely would have flown better with a more careful ordering. A couple of the tracks would also have benefited from some more love and care in their production, but considering the band have broken up and this album may have never seen the light of day otherwise, all is forgiven. Danity Kane fans will surely eat up their last album, and casual fans will find something to enjoy, too. While it may be the end of Danity Kane, hopefully the girls will continue to pursue their passions in music and release more music on their own in the future.
Must Listens: 'Rhythm of Love', 'Lemonade', 'Rage', 'Tell Me', 'Bye Baby'
Skip: 'All in a Day's Work', 'Roulette'
You can buy DK3 on iTunes here. Follow Danity Kane, @danitykane and bandmembers @AubreyODay, @ShannonBex, @DawnRichard.
You can follow POParazzi, too @POParazziorg, and on Facebook.