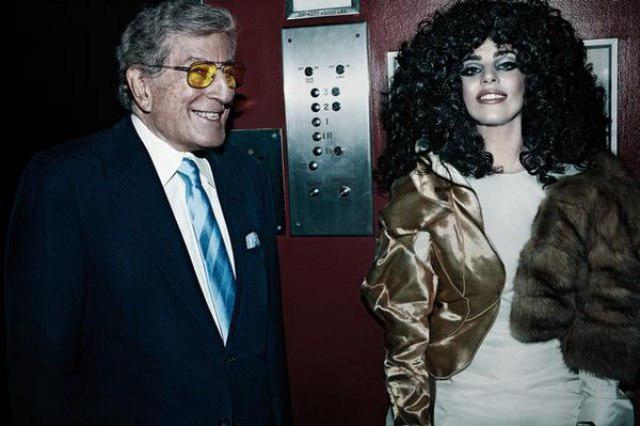 If you're hoping that after Lady Gaga's recent jazz collaboration with Tony Bennett she'd go back to her Fame Monster ways, you're in for a big disappointment. Backstage at a recent concert, Lady Gaga told fans she has no intentions of fitting back into the mold of a skimpy blonde popstar. Ah, the good old days.
In fact, she went further to say she's looking forward to doing whatever she wants with her upcoming album. This revelation either comes with great joy or great trepidation to her legion of monsters, and considering Gaga's past albums, it's easy to see why there'd be such a split in opinion.
But isn't that kind of Gaga's M.O.? She's never been an artist that enjoys pleasing everyone; instead, she chooses to spoil those that either love her unwaveringly or that enjoy whatever new sound she's headed for, and screw the rest. You're either for her or against her; there's very little gray area. If you asked your friends their thoughts on Lady Gaga, very few would likely answer ambivalently. You'd be more certain to hear either fanatical tales of their undying loyalty to her or their thoughts on how much they loathe her.
I can't wait to do whatever the fuck I want with the next album. I've got no one to tell me to be blonde or naked.
Alas, with past albums Gaga has even split her own fanbase, which from a marketing standpoint is a bit questionable. Born This Way began the steps Gaga took away from her cookie cutter pop image, and it gained her many new fans, but it also began a falling off the bandwagon of those that fell in love with her fun and simple tracks from The Fame. Having secured herself at least momentary popularity, Gaga took the time with Born This Way to get more political, especially in voicing her advocacy for LGBT rights. The majority, if not all, of Gaga's fanbase is either gay or open minded and gay friendly, so while this move may have alienated Gaga from Joe and Betty Beer Can from buying her albums, her true fanbase was, for the most part, intact.
Fast forward to ARTPOP, and it sadly seems as if Gaga's starpower is lulling. Not to say that a woman as talented as Gaga is incapable of attaining the star power she had during the 'Bad Romance' era again, but she certainly is in a bit of a career downturn. Whether the cause was over saturation of past albums, her ever shapeshifting image, or just the general public getting tired of her antics, it's hard to deny that ARTPOP was not Gaga's most successful album from a sales standpoint.
During this time, Gaga faced many betrayals and setbacks that changed promotional plans for the albums and it's ill-fated singles. While ARTPOP is sonically wonderful and an enjoyable album (you can read a track by track review here), it never clicked with the masses. 'Do What U Want' never managed to take off, and for good reason, considering it is, most importantly, nowhere near the same level as the rest of ARTPOP, and the fact that Gaga collaborated with two men involved in various alleged sex scandals singing about doing whatever they want with her body left a bad taste in many mouths. After this, Gaga and her management parted ways, inciting her to take her next single, 'G.U.Y' and turn the video into a phoenix rising from the ashes story to really stick it to 'em. While the video is beautiful, and Gaga looks better than ever, the video clocked in at nearly 12 minutes and just didn't entirely match up with the song on a level basic enough for most to understand that didn't follow Gaga and her career daily.
So is Lady Gaga going forward by herself, without anyone to tell her what to do, really such a good idea? Sonically, it more than likely is a sound decision; ARTPOP saw Gaga taking more creative control over her albums than ever before. She even produced one of the best tracks on the record, 'Venus'. When it comes to musical talent, be it singing, producing, or just knowing who to work with to produce magic, Lady Gaga undeniably gets it.
From a P.R. and marketing standpoint, Gaga being her own manager and not having anyone guiding her in the right direction seems a bit of a nightmare. Over the past few years, she has lost her enigma. During The Fame and The Fame Monster eras, everything she did had the public wanting more. Her every move was watched and almost seemed calculated. Those days are gone, even if Gaga and her most devoted monsters haven't been able to break it to themselves yet.
Lady Gaga's talent is immense, and she is by no means stupid or delusional. Hopefully she will not surround herself with yes-men, but rather find her creative equals that can question her choices, enabling her to truly make the most wise and thought-filled steps in her career. It would be a shame for Lady Gaga's popularity to dwindle away to nothing, because a talent like hers never will.