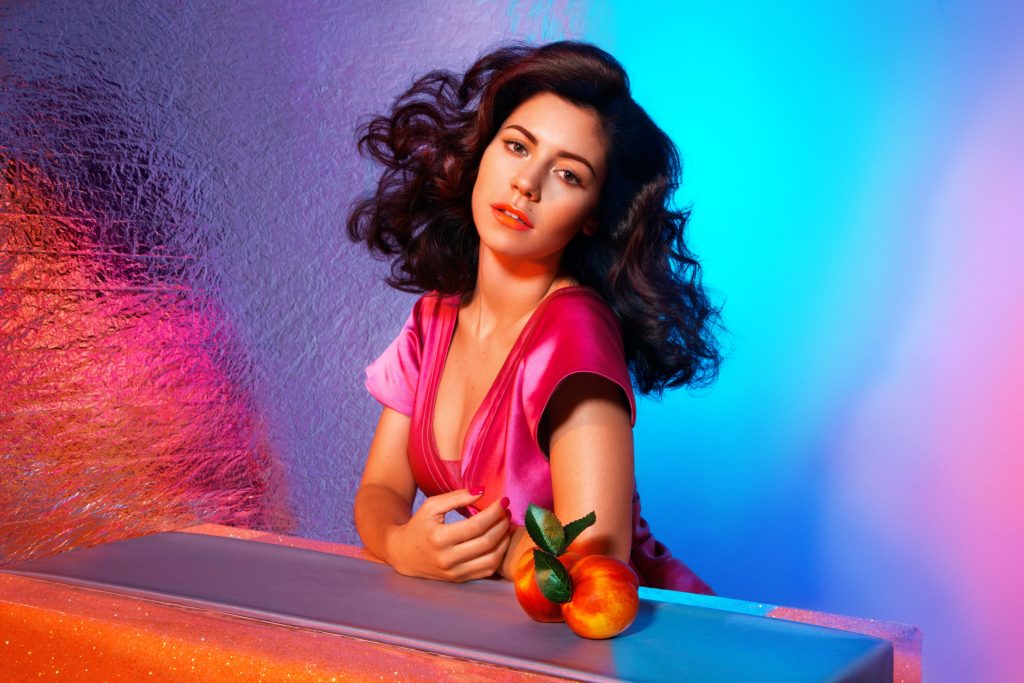 Marina & The Diamonds has never been the type of artist to fit nicely in a box; she's not strictly pop, she's not strictly indie…and unlike most of her peers, she certainly is not the type to compromise her artistic vision to fit in one particular box. Her last album, Electra Heart, saw a sharp sonic departure from her debut album The Family Jewels. Marina herself knew this – and Electra Heart was originally a project she wanted to release under a different name than Marina & The Diamonds. While The Family Jewels presented a reflective and at times wistful side of Marina, Electra Heart saw her in character and fully dedicated to the role of Electra Heart – a vapid lover of fame and material. While Electra Heart was much more mainstream than anything Marina had done and garnered her a mass of new fans, it also left the fans she had acquired during The Family Jewels (myself included), wondering if this was indeed her new direction. With her triumphant return to music with FROOT fans of both Electra Heart and The Family Jewels will find much to love.
Many artists may find it difficult to transition from something like Electra Heart back to something more authentic, but Marina has made the shift perfectly. Don't be fooled – those who are looking for a nice little package of songs that will climb to the top of the charts and be played all over the radio should look elsewhere. That is not to knock FROOT; rather, it is to say these songs are better than most music played on the radio stations. The album is incredibly intimate, and it's easy to see that Marina wrote all of the songs by herself  – no small feat in a music scene that makes it hard to get ahead unless your single is remixed with a new rapper or produced by any number of the top names that work their magic, often at the cost of originality.
FROOT's tracks are cohesive as a whole, while blending the best of Electra and Family Jewels. Marina's lyrics are as clever as ever; she never treads the line of being obscene or inappropriate. Rather than relying on double entendres or just plain explicit lyrics, Marina's magic comes out in her ability to poetically put into words emotions that most people have trouble even talking about.
Baby, I am plump and ripe
I'm pinker than shepherd's delight
Sweet like honeysuckle late at night
One of the standout tracks on the album is 'Forget'. Besides having a beautiful video, the song itself is a joy to listen to; despite the lyrical content being rather gloomy the upbeat production and deep lyrics keep the song from ever dragging. "Oh, all the time that I have wasted/ chasing rabbits down a hole /when I was born to be the tortoise / I was born to walk alone." This is quintessential Marina, and it doesn't get much better.
'Cant Pin Me Down' sees Marina wrestling with her character of Electra Heart, or rather the preconceived notions that may have followed her since. She confesses to herself 'All these contradictions pouring out of me/ Just another girl in the 21st century' while warning the unsuspecting 'I'm never gonna give you anything that you expect / You think I'm like the others / You need to get your eyes checked.' Electra Heart was a labor of love, but don't count on Marina doing it again soon. (Sigh of relief)
Perhaps one of Marina's most thought-provoking songs to date, 'Savages' finds Marina lamenting on the condition of the human race. 'I'm not afraid of God / I'm afraid of man.' Nicely put.
As a whole, FROOT is perhaps Marina's strongest album to date. As a die-hard fan of The Family Jewels, I have faith that FROOT will stand the test of time like both TFJ and Electra Heart. The real interesting part, for me anyway, will be to see Marina perform tracks from FROOT live – she always comes into her element when she's performing for an audience, and I can't wait to watch her make these beautiful songs take on a whole new life when she goes on the road touring.
Get FROOT on iTunes and Amazon. Highly recommended.
You can follow Marina on Twitter, @MarinasDiamonds, and be sure to follow Poparazzi @POParazziORG!