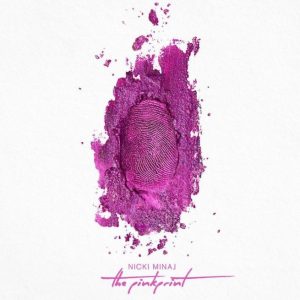 Nicki Minaj's latest album, The Pinkprint, is out today. I must admit, before listening to the album and since it's announcement, I hadn't really been highly anticipating new music from Nicki. When she first came out with the incredibly good Pink Friday, her wild and crazy persona seemed to have a short shelf life. Thankfully, The Pinkprint shows a new side to Nicki — she's surely still the same wild and provocative rapper/pop singer, but the lyrics on The Pinkprint show a more personal and authentic side to Nicki. Now that Nicki's bared more of her soul to fans, perhaps she'll be around longer than for just 15 minutes of fame.
'All Things Go' opens the album with a very appropriate lyric: 'I had to reinvent'. Nicki, unlike some pop stars, understands the pink hair and over the top outfits will only get you so far, and she's reinvented herself to a more stripped back persona. 'All Things Go' shows a Nicki that can sing, not just rap. This song may not please fans of her hardcore  raps, but it just may win her over some new fans that love pop music.
The album starts off with a slow jam, and the next track, 'I Lied' follows suit. Nicki is even more emotional and personal with poignant lyrics such as 'Even though I said I didn't love you, I lied'. Another track that is predominantly Nicki singing, 'I Lied' is very good and full of emotions many may have doubted Nicki was capable of showing. These songs may not be everyone in Nicki's target fanbase's cup of tea, but there is no doubt she is showing her versatility as an artist.
Barbs shouldn't worry too much about the Nicki they fell in love with transforming into a wistful songbird; the third song on the album 'The Crying Game', oddly is less of a ballad than the tracks before it. Nicki comes in hard with her signature clever lyrics and double entendres. English artist Jessie Ware joins Nicki on the song, letting Nicki assassinate the rap with Jessie adeptly handling the choruses. To me, this is the perfect blend of songs like 'All Things Go' and 'I Lied' while still keeping Nicki's trademark rapping skills. Refreshingly new and yet still wonderfully in line with some of her best previous works.
Emotional and weepy Nicki Minaj has left the building as the album picks up on 'Get On Your Knees' with Ariana Grande. "Got a bow on my panties because my ass is a present." If The Pinkprint had just been this song twenty times, I doubt anyone would complain. Ariana's voice weirdly complements Nicki's sultry raps perfectly. It's odd to hear squeaky clean Ariana singing such a titillating song, and her voice even seems to have adapted to more mature content – she sounds less like a young Mariah Carey and more like an enchanting seductress. Nicki, as expected, is more than capable of handling herself on a verse about getting amazing sex, making 'Get On Your Knees' one of The Pinkprint's highlights.
None other than Beyonce joins Nicki on the next song, 'Feeling Myself.' Beyonce sings the hook, which is literally just 'I'm feeling myself' x13. Nicki really shines on this song and shows off her great skills at rapping, but Beyonce actually does little for the song (who would've thought that?) She briefly boasts about dropping her digital album last year, but that's a short bit (probably for the best- Beyonce's forte is not rapping, especially next to Nicki Minaj.) Despite Beyonce appearing on the track but not contributing much, it's still quite an accomplishment for Nicki to work with such an established artist, and Beyonce's parts never drag the song down. Overall, it's quite good (although I think I prefer 'Get On Your Knees' a little more.)
Those that may have balked at 'Get on Your Knees' will be in full meltdown mode when 'Only' comes on, with Nicki being joined by Lil Wayne, Chris Brown and Drake. The rap opens with "I never fucked Wayne, I never fucked Drake/ On my life, man, fuck's sake/If I did I menage with 'em and let 'em eat my ass like a cupcake." Oh, okay! It's great that Nicki realized she needed to show more emotion, and I'm glad she took three tracks to do it, but 'Get On Your Knees' and 'Only' are top notch Nicki Minaj doing what she does best. My only problem per se is how Nicki and other women are objectified by Drake in particular with lyrics like 'I never fucked Nicki cause she got a man, but when that's over then I'm first in line.' Pretty bad when Chris Brown's hook is more respectful. Watch the music video below but be warned, it's about as explicit and sexual as you'd imagine.
'Want Some More' finds a proud Nicki Minaj boasting 'Who had Eminem on the first album?' and 'I got your rent in my pocket, so can I pay you to pop it?' Genius. Haters are put in their place as Nicki proclaims all of her accomplishments. Yes, Nicki, we want some more. The next song, 'Four Door Aventador' keeps pace with 'Want Some More'. Both sound right at home on one of Nicki's earlier mixtapes. 'Aventador' is a bit too hip-hop for my personal taste, but it's not bad by any means. A large majority of Minaj fans will surely be bumping 'Four Door Aventador' on steady repeat.
The next track is 'Favorite' with Jeremih collaboarting on this song about being with someone although it's not serious (and perhaps their hookups are even cheating on their significant others?) Regardless, Nicki and Jeremih just want to be their hook-ups favorite. The song seems to be the first signs of some filler on The Pinkprint, but it's still an enjoyable listen. Considering the album is over 20 tracks on some versions, a little filler is to be expected, and I'm pretty amazed it took nine tracks to get there.
Meek Mill raps with Nicki on 'Buy a Heart' (and Alicia Keys sings 'You should say it right now' throughout the track.) Meek Mill dominates the track, and it kind of feels more like this track should be on an album of his with Nicki being the featured artist. She takes control in the second verse, but like 'Favorite', it's mostly filler.
'Trini Dem Girls' gets The Pinkprint back on track, with Nicki showing some love for her heritage in Trinidad. She both raps and sings, and the song is amazing as a result. Lunchmoney Lewis sings an infectious hook that'll dare you not to dance. Probably one of the best and most hilarious lyrics on the album is featured on 'Trini Dem Girls': 'He wanna pound it like a hashtag.' A clever double entendre for the # being the pound sign on a telephone, for those that may have had the clever lyric go over their heads. Another standout track from Nicki.
'Anaconda' is up next on The Pinkprint. Unless you've been living under a rock for a while now, you've already heard 'Anaconda' and either love it or hate the 'Baby Got Back' inspired track. Honestly, 'Anaconda' was a good buzz maker for The Pinkprint, but having heard the rest of the album, many of the other tracks are much stronger. Still a great tune nonetheless.
 Nicki is well into her groove by the time 'The Night Is Still Young' rolls around. This reminds me of 'Automatic' from Pink Friday: Roman Reloaded. It's an enjoyable song that isn't very serious and is just about having a good time. 'The Night Is Still Young' would sound great on radio during the summer months. It has all the right elements for success if it were to indeed be released as a single. Another highlight from The Pinkprint.
'Pills n Potions' was one of the first tracks fans heard from The Pinkprint, and it gave them a glimpse of the new Nicki that came with The Pinkprint. 'Pills n Potions' gives fans a pensive and vulnerable side of Nicki. She calls out her haters and the hypocrites who claim to love her, and she also showcases her talented singing voice. A nicely produced song, even if it never really got too much traction or buzz going quite like 'Anaconda' managed.
The Pinkprint begins winding down with 'Pills n Potions' and 'Bed of Lies'. Skylar Grey features on the hook with some thought-provoking lyrics to an ex lover. Nicki is aggressive with her raps, but manages to still be very personal. 'Bed of Lies' seems to be Nicki's goodbye to ex-boyfriend Scaff Breezy. The highlight of 'Bed of Lies' is Skylar Grey's beautiful voice; she doesn't upstage Nicki who delivers the heart of the song, but Skylar's touching lyrics make the song memorable and unique. 'Bed of Lies' may not be the most upbeat and cheerful song in Nicki's arsenal, but it is definitely one of the most memorable from The Pinkprint.
Nicki tugs at heartstrings with 'Grand Piano'. It is your standard ballad with Nicki lamenting over her heart being played like a grand piano. Despite her realization, she still urges her lover to 'play on'; she's addicted to his love, even though he's terrible to her. Who would've expected a heartfelt ballad from Nicki Minaj that could actually manage to evoke sadness? Nicki continues to prove her naysayers wrong, and The Pinkprint continues to show off her strengths.
'Big Daddy' is another song featuring Meek Mill, and like 'Buy a Heart', he starts out the track that once again feels like it should be on one of his own albums with Nicki being featured. Nicki steals the spotlight though, with clever lines like 'Your time is ticking you bitches will be around shorter than Vine vids'. Still, 'Big Daddy' isn't the strongest on The Pinkprint.
Despite the ballads that would seem to be closing the album out, Nicki seems to begin  her encore on 'Shanghai'. She goes hard on the track that has a sick beat that's made even better by her boastful raps. 'Shanghai' would fit perfectly on Pink Friday, showing Nicki still has what everyone loved from her in the first place. She may be progressing and getting more personal, but she is still in control of her raps as she has been from day one.
Nicki said on her Twitter that 'Win Again' was written just for her fans, and it's easy to see why. 'Win Again', as the title suggests, is an upbeat song about winning at everything. Nicki also shows that she knows what her fans want; this song is infectious and they'll surely eat it up. It's a perfect mix of insanely tongue-twisting raps and proud singing. Judging by The Pinkprint, Nicki surely is winning again, and The Pinkprint ends on a high note.
The Pinkprint gives the public a new glance into the enigma that is Nicki Minaj. It's refreshing to see her evolve as an artist and reinvent herself on this album that has truly propelled her artistry to new levels. Nicki is a force to be reckoned with in the music industry, and The Pinkprint is a nicely packaged showcase of Nicki's strengths that even her haters will have a hard time dragging down. Very impressive, and highly recommended.
You can purchase a copy of The Pinkprint on iTunes, Amazon, and in-stores at Best Buy, Target, and Walmart.