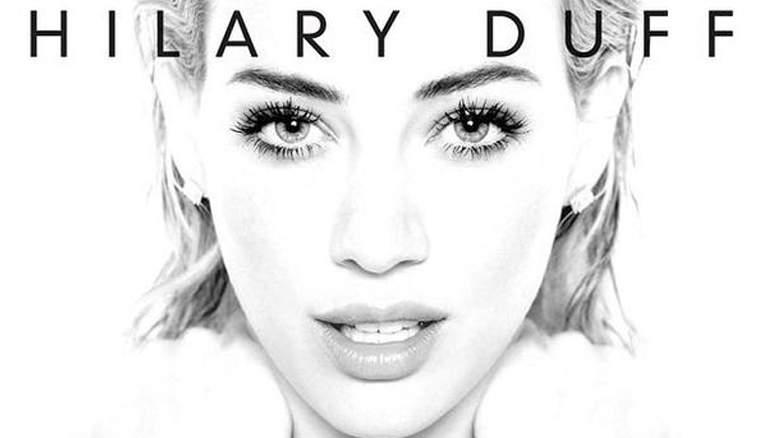 Hilary Duff is back in the pop game with her fifth studio album, Breathe In. Breathe Out., her latest in over eight years. The album features tracks written by some great artists, including Ed Sheeran (Tattoo), and Kerli (Confetti).
'Sparks' opens the album with an upbeat and carefree attitude that has become Hilary's signature. Despite being a trendy style for Duff to try on, 'Sparks' has yet to light up the charts – probably because, like other songs on the album, while there's a lot of fun to be had listening, there's nothing entirely groundbreaking or much substance to take away.
The same problem that 'Sparks' has makes its way on to 'My Kind' and 'One in a Million', both of which are enjoyable but sadly forgettable right after listening. The Kerli-assisted track 'Confetti' rejuvenates the album and gets it on its footing with a particularly dancy beat and lyrics that wouldn't sound out of place on Kerli's wonderfully good 'Utopia'. The track also nods to Belinda Carlisle's 'Heaven Is A Place On Earth', which only serves to further make it sound less like an original Hilary song and more like a song of another artist's she's covering. Despite that, it's one of the best tracks on the album, and it's just a shame it doesn't sound more like it came from Hilary herself. Hilary contributed to five of the deluxe edition's fourteen tracks, but most of the heavy lifting here was done by others which is nothing new or surprising in the pop industry. It's rare to find an album like FROOT, written entirely be the artist performing the songs – perhaps because it requires a dedication and passion for music that most novelty pop acts just don't have anymore.
The album's titular track, 'Breathe In. Breathe Out.', follows after 'Confetti' and is another strong contender for a future single. The album is now getting into its stride, and 'Lies', the first song on the album written in part by Duff, finally sounds authentically Hilary. Despite her fame originating on Lizzie McGuire and her early albums being early '00s Disney pop fodder, Hilary understands the sound she wants to make, and it comes across best in tracks she had a hand in writing.
The three-song streak of greatness ends with 'Arms Around a Memory', which features banal lyrics that come across as trying too hard to be original, and the beat adds nothing new either. The next track, 'Stay In Love', sees Hilary singing about something different than being in love, and the upbeat break-up track is surprisingly good and another standout on the album.
'Brave Heart' begins the album slowing down, and it's followed by the Ed Sheeran written 'Tattoo'. Arguably the biggest name on the list of Hilary's writers for Breathe In. Breathe Out., it's no surprise that Sheeran's work speaks for itself. Despite being slower tempo and not featuring a club-ready dance beat like the former songs on the album, 'Tattoo' is a phenomenal song that manages to strike the perfect balance of memorable and sad lyrics paired with an uplifting beat. Hilary isn't the type to wallow in her sorrows, and she turns lemons into lemonades on 'Tattoo'.
'Picture This' features a whistle just like the album's opener that would've probably made this song better as the final track. Just like 'Sparks', 'Picture This' is stricken by being good but just good, offering nothing new or memorable. The standard edition closes with 'Night Like This' featuring Big Time Rush's Kendall Schmidt. The two sound great together, and the lyrics are cute and romantic without being overtly sexual – just what you'd expect from Disney and Nickelodeon stars.
Bonus tracks on the deluxe edition, 'Belong' and 'Rebel Hearts' end on a high note (despite the opening to 'Rebel Heart' sounding like it was made on those cheap keyboards you'd play with as a child). Both tracks are stronger than some of the weaker songs that made it to the album's standard cut.
Overall, Hilary has achieved what she set out to do: release a pleasing pop album. The end result is an enjoyable ride that's perfect for some summer fun. There's nothing new or groundbreaking here, but fans that have been waiting eight years for new music from Hilary will certainly not be disappointed.