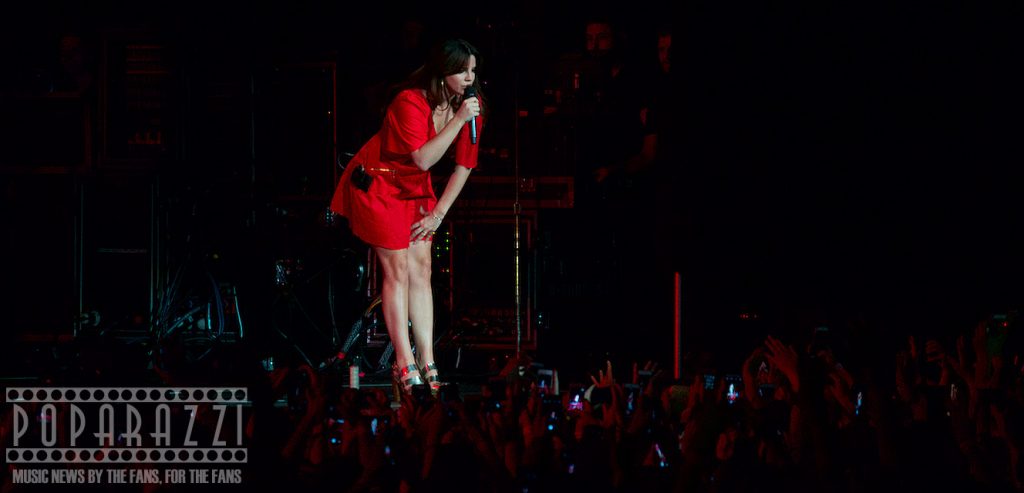 Lana Del Rey was a breath of fresh air at her concert in Bristow, VA on Thursday night. There were no intricate dance numbers, no costume changes or elaborate set designs – just Lana and her resplendent voice. That's all she needs to put on an amazing show, and she does it all too effortlessly.
Before Lana's arrival, fans were treated to an unusual choice of opening act: Grimes. Despite Grimes and Lana being on opposite ends of the sonic spectrum, the throngs of fans in the pit and around the entire venue went crazy for Grimes' unusual but quirkily charming set.
When Lana came on shortly after, she was as calm and collected as you'd expect. She skillfully sang her way through the setlist, feeding off the energetic crowd. Several times she asked how everyone was doing and went down to visit and take photos with fans in the front row during one song. Her voice was as smooth and seductive live as it sounds on her records, and she embodied the characters she sings about, much to the delight of hardcore fans who went crazy just from a seductive wink at a particularly clever lyric here or the way she got down to wave to fans and sultrily sauntered back to the mic stand there.
As expected, Lana Del Rey's biggest hits got the crowd going the most throughout the night, and she stopped to remark during 'Video Games', telling the audience how happy she was that it was their song. For her encore, Lana finished at a high with 'Off to the Races', going back down into the audience and collecting an assortment of fan gifts, books, signs, and other items her legions of fans were delighted to give to her. As she made her way off the stage waving and smiling and thanking the audience, it was obvious that her love of her fans is genuine. It's easy to understand why a pop star would love her fans, and after watching Lana Del Rey enchant the entire Jiffy Lube Live amphitheater, it's easy to see why she has those fans and why they won't be leaving her anytime soon.