Kat Saul is honestly one of those artists that you need to start listening to today (or, y'know two years ago, when POParazzi first featured 'Iconic' *winky face*). Wait too long and you'll be accused of being one of the people who jumped on the bandwagon when she eventually blows up and is selling out arenas.
…from Unit 408 is an intimate EP for Saul, but it still finds fun in the little things in life. "These songs are all about situations that kept me up at night pacing around my apartment," explains Kat. "The physical location of Unit 408 is the genesis for this entire project. I want people to feel at home with it." The result is some magically unapologetic pop music.
The EP opens with a titular track that perfectly captures Saul's desire to have listeners feel at home as she invites them into Unit 408. "You know the way," she sings, "It's getting kinda late. Don't you wanna lay with me?"
'Nick Miller' is an interesting new sound for Saul, a blend of Gwen Stefani and Lorde as she blends pop sounds and synths with sharp lyrics and a fast flow. "Kissing me, so sweet that all my teeth go rotten," Saul sings, adding "he's kinda fit with a dad bod, it's ironic." Live your New Girl fantasy, Kat!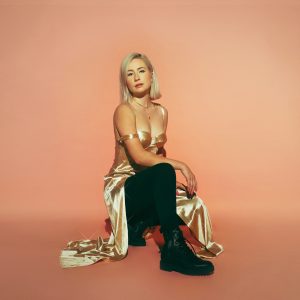 Saul is more pensive on 'Middle Name' a song that was selected as Amazon Music's Song of The Day, leading to Kat being named Amazon Music's Weekly One Artist Of The Week. "Let's get on a middle name basis," Saul sings frankly. "Who's the first girl you got it on with, and who did you love the longest? Just shoot me strong, keep it honest like I do." Lyrics like these are so genius and authentic Kat Saul.
'Bite' is another beautifully intimate song about hookup culture, like 'Body Language' from her previous EP — the superb Vision. 'Happy Ever After' isn't a traditional love song, with Kat finding the rainbow after the rain and feeling anything but blue after a relationship runs its course. The track winds down the sinfully short …from Unit 408 and leaves you wanting more.
Overall, …from Unit 408 finds Kat Saul delivering some more beautiful pop masterpieces. Would you expect anything less? Purchase the EP on iTunes here, and stream it on Spotify. Keep up with Kat Saul on her official website, Facebook and Instagram.