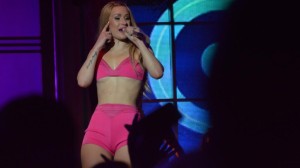 Iggy Azalea has an enormous, if not cult-like following. I was astounded when I arrived with my friends to The Fillmore in Silver Spring an hour and a half before the doors were set to open and found the line waiting to see Iggy stretched around the entire building. I'd been a fan of Iggy before 'Fancy' blew up, although not as long as some of the more dedicated Azaleans that go back to her My World days. Of all the shows I've been to, I thought seeing Iggy would be the easiest to get a front and center seat in the all standing venue; the girl only JUST released her first proper album, and 'Fancy' had only begun to take the charts by storm. Boy, was I wrong!
I won't dwell too long on my gripes with the venue and its staff, other than to say that the wait for the show to start could have been much more pleasant. Right on time, Iggy's 'opening act', DJ Wizz Kidd started the party with some music and remixes that got the crowd going, but never really managed to take off due to him constantly being interrupted by Fillmore staffers telling him he needed to tell the crowd to calm down. Eventually, it seemed that Wizz Kidd had enough of it all, and he just left the stage, leaving a few of us wondering if something more serious had actually happened back stage. The venue was rather quiet for about another half hour, with the lighting returned to normal, but finally, around 9PM Iggy took the stage to give some much needed relief to the otherwise dull evening.
The amazingly good 'Beat Down' opened the show, letting everyone know that Iggy meant business. Through her entire set, Iggy had incredible energy and her vocals never fell short of impressive with the incredibly fast pace the show kept up through its entirety. Songs often blended one into another, with little or no pauses inbetween. While this did give Iggy the chance to include many more songs, it also closed the audience out to Iggy the person. A bit of talking to the audience is always a plus in my books as long as it doesn't drag on or get preachy, so it was sad to see Iggy's only words to the audience be "Let's do a new track," or "Thank you DC." It would've been nice to hear more behind some of her deeper tracks and help the audience relate to Iggy through more than her fun songs.
Regardless, Iggy rocked the stage, and anyone who didn't know she is The New Classic certainly left knowing it. Highlights of the night were "Beat Down", "Fuck Love", "Pussy",  "Lady Patra", and "Work". As Iggy's star continues to rise, I look forward to watching her sell out venues bigger than The Fillmore, and I'll definitely be in the audience if she comes back to DC.
You can watch Iggy Azalea's music video for 'Fancy', and purchase The New Classic in stores and on iTunes.