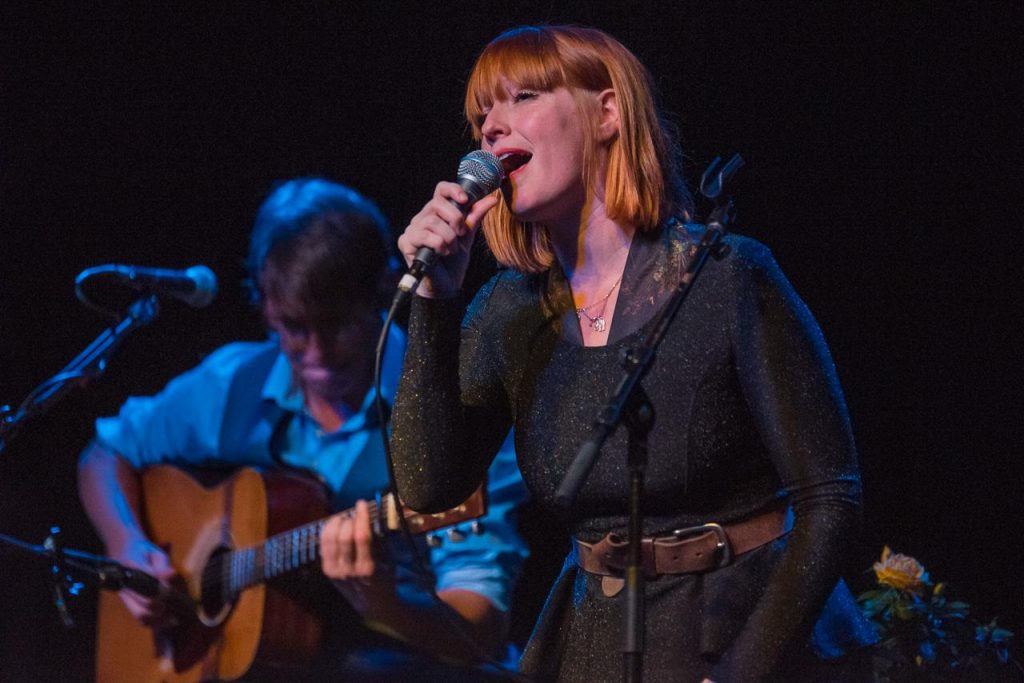 Leigh Nash celebrated the release of her new album The State I'm In at Jammin Java' in Vienna, Virginia on September 24th. It's impossible not to be familiar with Leigh's work to some extent – her band Sixpence None The Richer are famous for their infectious tunes like "Kiss Me" and popularizing The La's "There She Goes". Leigh's solo release of The State I'm In proves that she does not want to be stuck in a set genre, moving more towards a country sound that still embraces her pop roots.
Jammin' Java is such a wonderful venue – especially for artists like Leigh and her opening act, Charlie Mars. The crowd and staff were all laid back, respectful, and so eager to hear the music. It was refreshing to see Leigh take to the stage, with over two decades of experience under her belt, and remain so humble and enthusiastic. She began her set with the titular track from The State I'm In, a particularly lively and country track.
 Leigh worked her way through the majority of the album throughout the night (the only tracks not performed were 'Dreaming Out Loud' and 'What's Behind Me'), and also did a beautiful cover of George Jones' 'I Always Get Lucky With You'. She paused before doing her most widely recognized song ('Kiss Me'), by letting the audience know that they'd surely heard it before – and even asking if anyone would like to come up and sing it for her. It was a cute and genuine moment; this is obviously the song she's sang more than any other in her entire life.
The concert also marked the first live performance of 'Spider and the Moth', The State I'm In's opening track. The relationship of Leigh and her husband who was playing guitar was aspirational; they got along so well (well enough for Leigh to joke about him messing up on 'Spider and the Moth'!) This was especially obvious when the two would talk about their son, Henry, who apparently has a penchant for Jammin' Java's delicious hot dogs, a tradition that Leigh kept up for him despite him being at home in Tennessee with his grandmother. The bonds of family play a strong role in Leigh's music, and she described 'Chicago' as being an almost-verbatim recount of a story her grandfather had told her.
As humble as Leigh was, she took a moment to brag about the success of her new single, 'Doing It Wrong', which was number two on the Most Added Americana chart. (She shared on Instagram earlier this week that she's shot a video for the track!) This was a particular highlight of the night.
As good as 'Doing It Wrong' was, the next track, 'High Is Better', was arguably the best of the night. An autobiographical track about indulging in getting drunk on 'cheap wine' and high on 'decent weed', 'High Is Better' makes light of the ups and downs of marriage, and is a tongue-in-cheek track to dance to with your partner. Leigh had a laugh about the track after, remarking that her family love it – despite their religious background.
'High Is Better' summed up The State I'm In perfectly: a memorable, toe-tapping, country record that doesn't take anything too seriously. Leigh, as a vocalist performed phenomenally; her talent at both writing and performing is a sight to be seen and heard. The charm she and her husband both brought to the stage surpassed many artists performing at much larger venues with far less experience. She's a seasoned pro, and it's apparent that she has such a passion for her music and enjoys performing it. With the country influences on the album, what stands out the most is that Leigh thoroughly enjoys the "state" she's in. (/end horrible pun.)
Setlist:
The State I'm In
Cruel Heart
Mountain
Somebody's Yesterday
The Promise Break
I Always Get Lucky With You
Kiss Me
Spider and the Moth
Chicago
Doing It Wrong
High Is Better
Tell Me Now Tennessee
Encore: There She Goes
Visit Leigh Nash at her official website, on Twitter and Facebook. Check out The State I'm In on iTunes, Amazon, and Spotify.