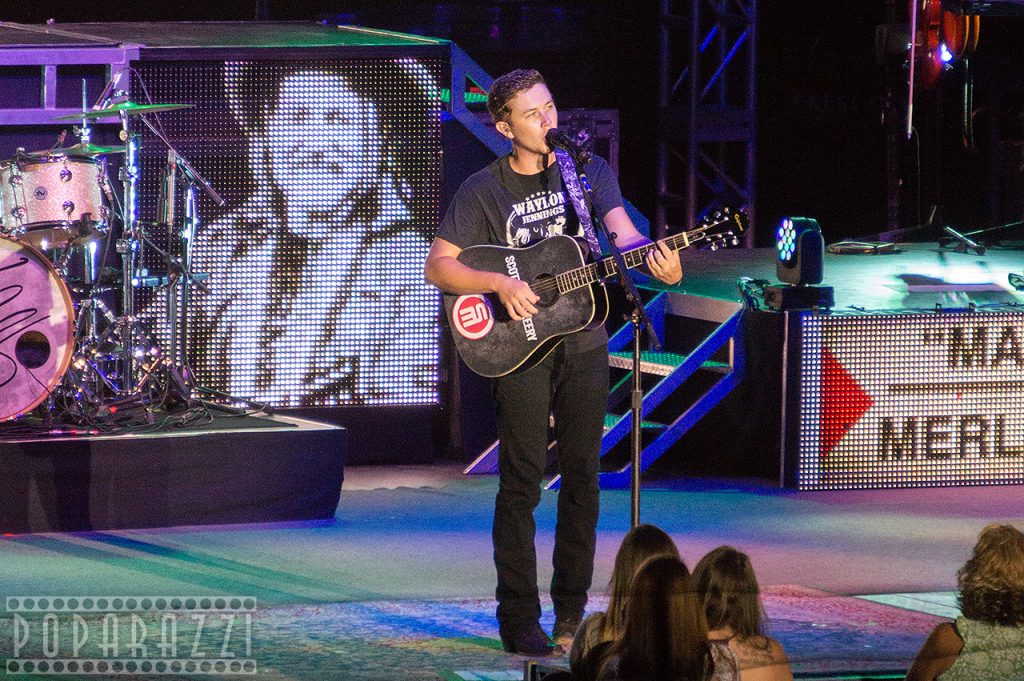 Scotty McCreery brought big time fun to a small town at the Allegany County Fair on Wednesday night. The country singer and 2011 American Idol winner's trademark charm and classic voice made for an unforgettable night.
Let me be frank – Scotty had an uphill battle to fight to win me over before this show started – none of which was his fault. Maybe I've been spoiled by past concerts, but a fairgrounds is not the ideal location for a show, especially of this magnitude. The event organizers had everyone rush in by 6:30 to get their seats, but neglected to inform anyone that the concert was going to be delayed due to wind gusts. The 7:30 start time was pushed back to 8:15 – but only Scotty's followers on Twitter would have known that. Sitting in the hot sun for forty-five minutes longer than anticipated with not even the radio playing over the sound system left myself and many others feeling irked.
The good news is, when the show began all those irritations faded away as Scotty and his band took to the stage to perform a selection of songs from Clear as Day and his sophomore album See You Tonight. In-between songs, Scotty was charismatic and relatable, talking about varied topics that got the crowd to feel emotion with him, like bringing back the classic names in Country before breaking out into a "Throwback Tuesday" medley of country classic hits. Many were moved to tears by his performance of 'The Dash' – dedicated to all veterans and one of his former bandmates that had lost his life in the service. 'The Dash' was sorrowful and heartfelt – but Scotty made sure the tears were dried and never let the night get depressing.
Highlights of the night were Scotty's singles: 'I Love You This Big', 'Water Tower Town', and 'Feelin' It' and See You Tonight's 'Now'. The show ended with 'The Trouble With Girls' (I think the entire front row of young female Scotty fans all collectively screamed until they were hoarse for this one).
Speaking as someone in the crowd who was not Scotty's usual fanbase, his powerful voice and innate stage presence won me over last night. These days shows like American Idol have become a bit of a joke in themselves – by the time they are past their eleventh season, the show has usually morphed into a farce of itself. Thankfully, there's nothing disingenuous about Scotty who, at just 21, is on top of the world and poised to have a very long and successful career with his legions of fans — their dedication in finding my photos on Twitter minutes after posting them makes me think his fanbase is just as hardcore as One Direction's. It's easy to see why they are so dedicated to their idol: he's got the vocal chops, the catchy lyrics, and according to the woman behind me in the audience "just wait 'til you zoom in on those photos and see how cute he really is."
You can keep up with Scotty McCreery at his website scottymccreery.com on Facebook and Twitter. His latest album, See You Tonight, is available on iTunes and all major CD retailers.