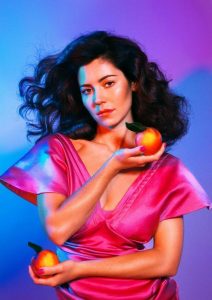 Finally! Marina and the Diamonds has released a new single, 'Froot', and announced it's also the title from her upcoming album. Marina is the total package when it comes to a music artist: her songs are witty, fun and catchy with thought provoking lyrics that never seem to take themselves too seriously. While she shot to fame with the success of Electra Heart in 2012, her debut album The Family Jewels remains an underrated gem of pop music. If you've yet to hear of Marina or have only heard Electra Heart, read our review of The Family Jewels and thank us later. Family Jewels was a bit ahead of its time in pop music, and with Electra Heart bringing Marina her well deserved success, perhaps Froot will take diehard Marina fans back to the beginning while taking pop music fans forward.
Luckily for Marina fans and pop music lovers, 'Froot' is amazing. Marina has perfectly melded the best of Electra Heart and The Family Jewels to produce a song that doesn't feel like a step back but a wonderful progression in Marina's career that remains true to herself. The lyrics create odd imagery that weaves together an unusual love song, and the result is pop brilliance.
I'm your carnal flower, I'm your bloody rose
Pick my petals off and make my heart explode
I'm your deadly nightshade, I'm your cherry tree
You're my one true love, I'm your destiny
Marina does what she does best on 'Froot'; she sings about love, desire, (even sex?) without ever appearing crass or vulgar. May 'Froot' be the beginning of another polished Marina album. It's been a long wait, but if it's anything like the title track, it'll be well worth it.
The part of Marina's newest album I'm looking most forward to is when she'll go on tour to promote it. Seeing Marina live is an experience, and she is a true performer that sounds even more mystifying and amazing live than she does on a record. If you've ever seen Marina in concert, t's not hard to imagine how wonderful 'Froot' will sound live. As a die-hard Marina fan, Froot is by far my most anticipated upcoming album, and hopefully more information surrounding it will be released soon.
Check back for more news and updates on Marina and Froot. The song has yet to be released on iTunes, but you can follow Marina on Twitter, and visit her official website (although it's a bit bare at the moment.) While you're at it, follow POParazzi on Twitter, too!