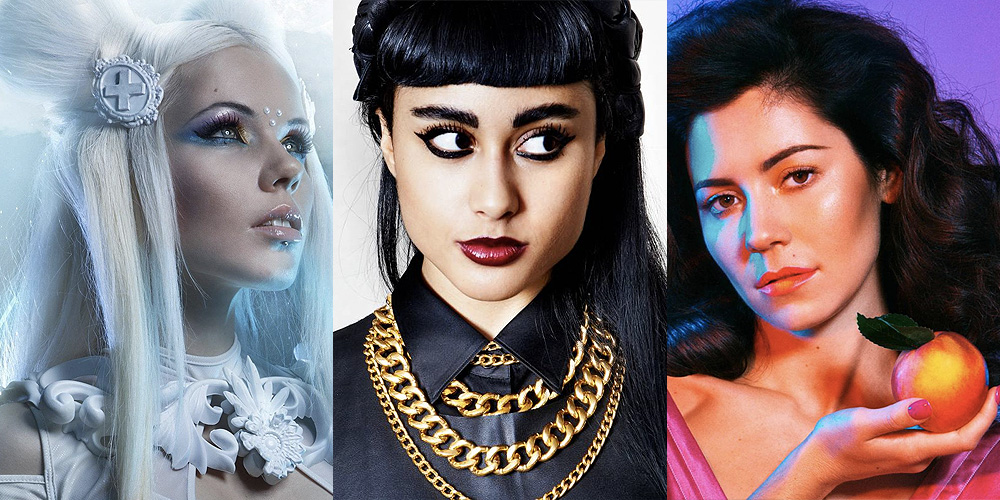 As 2014 wraps itself up, a new year is coming and set to bring with it an array of new artists and great music. Every year someone new seems to have a meteoric rise, with most listeners not realizing the hard work and effort those artists put in to get where they are today. Take a look at three artists who have paid their dues and, with a little bit of lucky stars aligning, could very well be poised to take the music world by storm in 2015.
Kerli –
Bubblegoth Princess Kerli has two wonderful albums under her belt: Love is Dead and the more upbeat Utopia. She is constantly evolving her sound and collaborating with new and exciting artists like Seven Lions and tyDi. 2014 has been a relatively quiet year for Kerli, but she's been sharing photos on Facebook and Instagram of her in the studio lately…hopefully working on some new Bubblegoth amazingness that will finally propel her to new heights in 2015.
Haven't listened to Kerli before? Her music is very diverse; check out some of her best tracks. 'Zero Gravity', 'Walking on Air', 'Love is Dead', 'Immortal', 'Chemical', and 'Speed Limit'.
Natalia Kills
In a perfect pop world, Natalia Kills and Kerli would go on tour together forming the perfect show of light and dark pop. Despite Kerli's darker beginnings, her latest music has been cheerful and uplifting, while Natalia Kills offers a sexual dark pop that's sure to get listeners dancing. I've enjoyed Natalia's music since she was on Myspace going through many artistic reincarnations before finding Natalia Kills, her darkest and most appropriate persona. Natalia's music titillates the senses and her dark, dance driven beats make for the perfect storm of pop perfection. Natalia has teased fans that her best music is yet to come; it's so good in fact that she's keeping it under wraps for now to enjoy with her new husband, Willy Moon. The couple are set to be judges on X Factor New Zealand in 2015, which will certainly give Natalia greater exposure. If she works it to her advantage, 2015 could see Natalia's new music reach new heights.
You've probably already heard a song or two of Natalia's featured in a commercial or on YouTube over the years, but just in case be sure to check out some of her best tracks: 'Wonderland', 'Free', 'Problem', 'Kill My Boyfriend', and 'Saturday Night'.
Marina & The Diamonds
Marina has already enjoyed some widespread success, and 2015 is shaping up to be the year she finally gets the recognition she deserves for the music she wants to make. The Family Jewels is  one of the strongest debut albums from an artist, and her more mainstream release Electra Heart rocketed Marina to a much more mainstream fan-base. Her upcoming album, FROOT, is shaping up to be the perfect blend of Marina's past albums, with heartfelt and clever lyrics sung in Marina's ethereal and one of a kind voice.
FROOT will see Marina touring in 2015, starting at the end of March in Brazil for Lollapalooza. The album is due out on April 06, with six songs being released beforehand as a 'Froot of the Month' promotion.
Marina's best tracks include: 'Froot', 'Oh No!' 'Hollywood' 'Are You Satisfied?' 'Shampain' and 'How to Be a Heartbreaker'.